Thought Bantu knots only worked for shoulder length hair or longer? Think again.
This protective style is an easy way to achieve super sleek and defined curls in little time. Here is a step by-by guide to getting gorgeous curls with a Bantu knot-out on shorter hair.
1. Moisturize your hair with your favorite styling product.
This could be a styling cream, butter, or oil. Make sure that your product is disrupted properly and your hair is completely saturated.
2. Begin sectioning your hair in small triangles.
Use your fingers or a rattail comb. The smaller the section, the more defined your curls will be.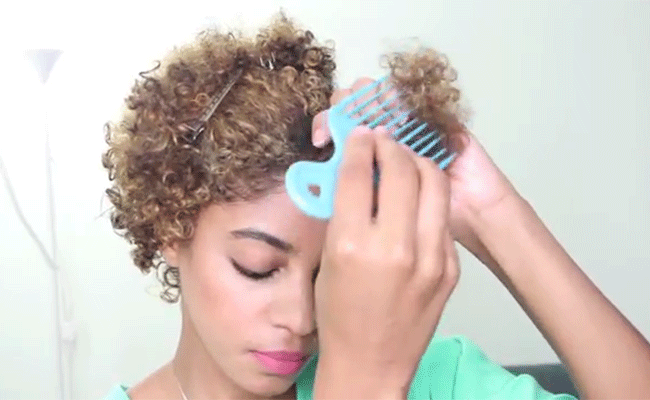 3. Starting from the ends, lightly detangle your hair.
4. From root to ends, begin twisting your hair firmly but gently.
At the end of each twist, twirl your hair around your index finger to curl the ends.
5. Secure and pin each twist to your scalp with a bobby pin or duckbill clip.
Continue this throughout your entire head. 
Keep your Bantu knots up overnight or sit underneath hooded dryer until your hair is completely dry.
6. During the takedown, apply a light oil to your hands and separate gently.
How to get the best Bantu Knots
Make them on dry hair.

Apply extra product to your ends if they are super dry.

Try not to make too big of a section for each Bantu knot--less hair creates a more defined curl.

Use coconut oil as you separate each twist--coconut oil is light, but very moisturizing that doubles as a finisher.

To fluff out your style and create volume, use a styling pick or wide tooth comb, lifting the roots only.
The perfect styling products for Bantu Knots
Cantu Moisturizing Twist and Lock Gel (Available at Walmart and Target)
Curly Hair Solutions Curl Keeper Styling Cream (Available at CurlMart)
Miss Jessie's Curly Pudding (Available at Target and CurlMart)
Naturally Smitten Moisturizing Hair Butter (Available at CurlMart)
Design Essentials Natural Curl Stretching Cream (Available at CurlMart)
Watch ShineStruck's tutorial