You hear a lot of "what did you put in your hair?" and "I love your shoes!" around the NaturallyCurly offices. Personally I am always finding inspiration in what my colleagues are wearing to the office and on their Instagrams, so we're starting a new series to share what we're loving with the rest of our community - beyond our hair! #WhatWeWore
Fashion, hair, and makeup: less is more?
I have been attempting to adopt a semi-minimalistic approach to my personal wardrobe. For over a decade I've been rocking bold colors and patterns with unusual fittings. However, this time I opted for something that allowed me to still be bold but still classic and sophisticated. Sometimes I dress for comfort, sometimes it's just for fashion, and sometimes it's for both… my fashion switches up every single day and I don't limit myself to one category.
I don't have a specific color palette for every single day of the year since I like to change it up from day to day. My main focus when shopping for clothes are intricate geometric patterns and combining various textiles. Paisley and kente cloth -- not together -- are the best.
My curls need lightweight moisture
My summer go-to is the original DevaCurl One Condition because it's not as heavy as the Decadence line but it still gives me a ton of moisture and curl definition. The scent is also ideal for warmer months. For my curl definer, I've been using Controlled Chaos; it's a creme-gel that doesn't feel sticky in my hands or leave a white cast like others I have tried in the past. I also like to add more natural volume without compromising my definition by giving my curls a refreshment via One Little Parrot Tropic Fruit & Honey Tresses Revitalizer.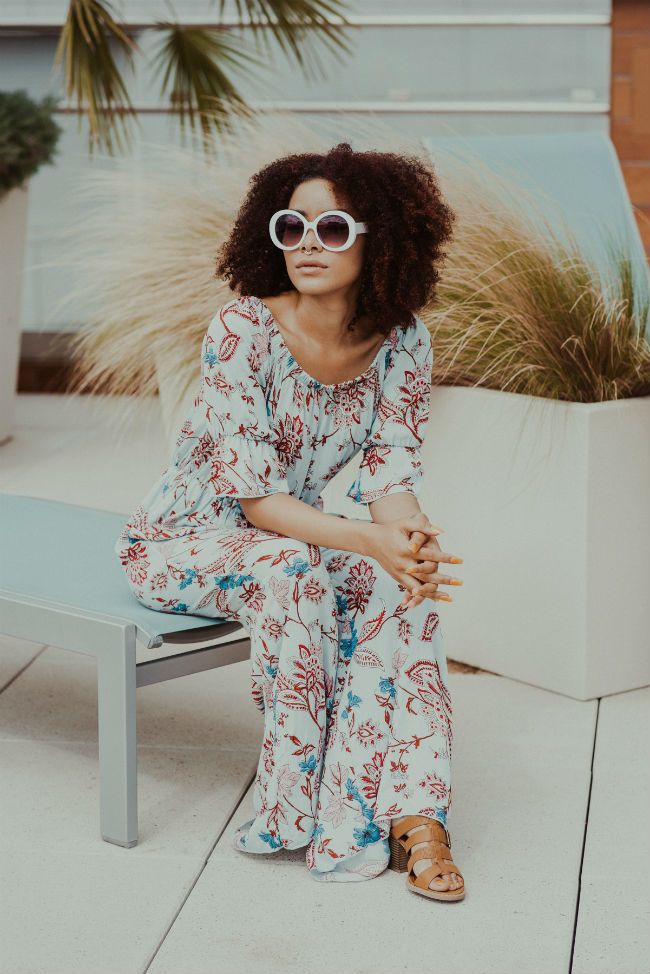 My face says, "take it easy"
As far as my face, I stuck with a lightweight, fresh-faced look perfect for everyday work wear. On this day I used PÜR's dual-ended contour stick, KoyVoca eyeshadow, e.l.f. Eyebrow Kit with Revlon Brow Fantasy, Anastasia Beverly Hills Lip Gloss, winged liner, black mascara, and a shimmery pink highlighter. Then, to set everything in place I spritzed my face a few times with BH Cosmetics Studio Pro Makeup Setting Spray.
Where I got my outfit
off-the-shoulder jumpsuit courtesy of Melodrama Boutique in Houston, TX and round sunnies from Beehive Boutique in Austin.
What do you wear at work?
What is your style goal for next season? I'd love to know.
Follow Devri on Instagram for more style inspiration @devrivelazquez
Photos by Cassandra J. Klepac