I remember when I was growing up teasing my brother, as siblings do, for always wearing a beanie while his hair was drying - even in the summer. I know now that this was his attempt to straighten his hair, and that it was mean and insensitive to poke at his insecurities (I'm sorry Joey!). Growing up as a girl with hair that's anything but straight and silky can be challenging to your self esteem, this has been well documented now with the rise of the natural hair movement. While women are expected to spend many hours and dollars tending to our looks, men who do the same have their masculinity questioned. There are far fewer resources for men wanting to care for their hair than there are for women, and even less for curly haired guys. Today I'm excited to share NaturallyCurly reader Elijah's journey, along with the products and tips that he's learned along the way.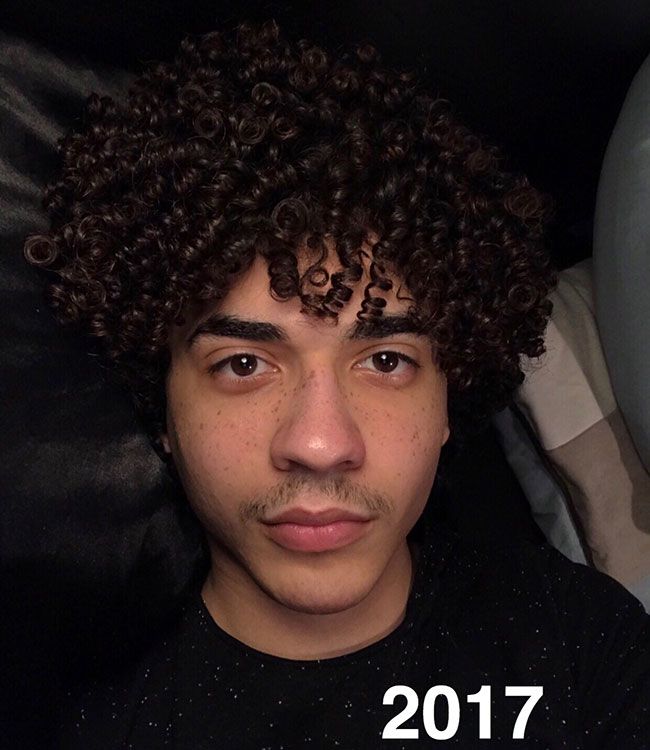 What are your Holy Grail products?
So I have four Holy Grail products.
Shampoo - The Shea Moisture Jamaican Black Castor Oil Shampoo has worked wonders on my hair that no other shampoo has. It cleanses very well but because of the castor oil in it, it moisturizes at the same time so my hair never has that stripped feeling.
Conditioner - Now choosing a Holy Grail conditioner is difficult haha but I would have to say the Aussie Mega Moist. Not only is it extremely affordable and comes in a HUGE bottle, it helps me effortlessly detangle my hair! Also gives amazing slip and moisture.
Deep Conditioner - My favorite deep conditioner is by far the Eden BodyWorks Jojoba and Monoi. My curls look flawless right after I use it.
Styler - And finally, my Holy Grail styler is the Tgin Green Tea Super Moist leave in conditioner. For weeks I've been using JUST that leave in with no other styler and the moisture it provides is unmatched, and trust me, I've tried plenty of leave-ins and have a huge collection of other stylers.
What's your styling routine?
My styling routine is a super simple process but a bit time consuming depending on how dense your hair is. So I split my hair into four sections and I style in smaller subsections of whatever area I'm working on. I also make sure my hair is wet to help prevent frizz. But I apply the leave in conditioner of my choice to each subsection and do what is called the Shingling Method: Process of separating each individual curl where it wants to naturally separate. It's super easy but does take me over an hour just because my hair is extremely dense so time varies depending on the individual. I also only have to wash my hair once a week so I don't mind. And this method is the best for anyone who loves definition, your volume is also not sacrificed at all. I actually get more volume this way. After that I scrunch a light oil such as grape seed oil on my ends and that's it! Sometimes I diffuse on low heat/low blow but I prefer air drying. Then when it's 100% dry I fluff at my roots till I have my desired look.
Are there any tricks or tips that you've figured out along the way that have made a big difference in the way your hair looks?
One tip I have, now that my hair is free of bleach damage, is that less product is more. Healthy hair honestly doesn't need any more than three stylers. Ever since I've only been using a leave in and oil I get much more volume and still have the definition that I love. Also, while styling be sure to do it on wet hair. I find it helps prevent frizz and your curls will pop, styling on damp/dry hair is just an open invite to frizz. And the best tip I have is to be patient. Whatever you're going through wether it be recovery from heat/chemical damage or just waiting for your hair to grow longer it will happen! Focus solely on the health of your hair and before you know it you'll reach your goal.
What piece of advice would you give to a guy who's just starting out in their curly hair journey and feels frustrated?
We all get frustrated during this whole journey but don't let it be a daily or weekly habit because it's unnecessary. From my experiences if you're ever struggling, so many of the curly hair women are more than willing to help! I've gotten the best advice from them. Most love the idea of us men letting our curls grow so don't be afraid to go to them for any questions or pieces of advice, we're in this together!
Gender has nothing to do with hair.
How did you figure out what haircut works best for you?
I actually haven't had my hair cut since 2015 when I did a big chop so right now I'm not sure what cut works best for me. My hair is in a way layered though because I used to keep my hair faded on the sides and back and long on the top. Now that it's grown out I actually like the shape it gives.
What has your curly hair journey been like?
My journey has been far from easy. I honestly never even knew my curls had this potential. But the first time I ever let my hair grow was from 7th to 9th grade. I didn't even know I had curls because my hair was always dry and frizzy plus I kept it in as an afro anyways. The reason I cut it though was because I started to get bullied for it. People would throw food in it, plastic forks at lunch, paper, and pull it so I cut it all off and didn't want to grow it out again.
The reason I cut it though was because I started to get bullied for it. People would throw food in it, plastic forks at lunch, paper, and pull it so I cut it all off and didn't want to grow it out again.
Then my junior year of high school I remember looking at baby pictures of me and seeing curls. That's when I realized I probably still had them so I slowly started to educate myself and let my hair grow out one more time to see.
Once I started growing it out I had an obsession with dyeing it. I kid you not I dyed my hair a new color every 2 weeks. In April of 2015 my bleach damage was so bad that I HAD to do a big chop. My hair was bone straight and for a while I didn't think I wanted to ever grow my hair out again.
But a few months passed and I let it continue to grow but dyed it a lot, again. That time I at least used a lower volume of bleach but of course my hair still suffered considering I was no professional and was buying store bought chemicals. May of 2016 was the last time I dyed my hair and I haven't done it since. 
It was crazy seeing how much curlier my hair was getting! I promised myself to not dye it anymore and now here I am 11 months later with curls people obsess over. Definitely shows that anything is possible.
Which curly men do you look to for inspiration or advice?
YouTube has always been the place I go to in search of curly hair related people for advice and inspiration, I always struggled though finding a guy who was as amazing as YouTubers such as Sunkissalba or Frogirlginny. But a couple weeks ago I came across this super awesome and extremely knowledgeable guy named Terell McDonald on YouTube. His videos are now my go to and I feel like he's one of the best curly men we have representing us. He's been making videos for quite a while so it's cool being able to see his curls "evolution." Seeing things like that can help encourage other men to continue pushing through this journey. So I definitely recommend him to any new curly guys.
Editor's note: Terell McDonald recently joined the NaturallyCurly team of contributors, so stay tuned for more curly guy advice from him!
Do you have any special advice for caring or styling for men's curly hair?
The first piece of advice I would tell a curly guy is if you want to grow your curls out and genuinely care for them then do it. Society has an assumption that any male who grows his hair out and takes good care of it is feminine but that is not the case. Gender has nothing to do with hair. Your curls are your living crown, let your crown grow as you please. Don't be ashamed of using products to keep your curls in great health. Also, like I said earlier don't fear turning to the curly women for help, guys. And YouTube of course, you can find so many styling/caring for curly hair videos including from my new channel curlsofeli. Just educate yourself, try different techniques, products to find what works for you, and before you know it your hair will be thriving!
Thank you Eli for sharing your story!
Curly guys, what's your biggest hair challenge? Let us know in the comments so we can help answer your questions.
If you'd like to see more from Eli, you can see more of his routine on StyleNook, follow him on Instagram @curlsofeli and watch him on YouTube curlsofeli. 
If you'd like to post your own curly hair selfie and share your routine on StyleNook, you can do that here.