There has been an ongoing struggle for naturalistas to be accepted and empowered to love their natural hair. Wearing your natural hair at school, work, or in any social spaces continues to be a topic of discussion because of the growing discrimination cases that Black people experience all over the world. Just recently the Duke University's Fuqua School of Business conducted research through a series of experiments that showed people still view Black women wearing natural hair styles like curly afros, braids, or twists as unprofessional. As the only black woman host of a weeknight television show, MSNBC host Joy Reid told Forbes "There's no reason we shouldn't be able to embrace our hair as it is, or how we reimagine it, and it's an affirmation of our full arrival as citizens and cultural leaders. And yes, our natural hair is a political statement." Just this month a 6-year-old boy named Asten Johnson in Ohio was told he couldn't wear his dreadlocks to his school. These are just a few of the recent acts of discrimination that are apart of a long history of systemic racism and oppression that deems natural hair as "nappy," "unkept," or "messy," versus wearing it straight or in a blowout.
While we've seen a steady rise in the conversation around social and digital media regarding how natural hair is portrayed, there is still a lot of work to be done. In 2017, when Mya and Deanna Cook wore braided extensions to their Boston-area charter school they were unfairly targeted and punished by being told they were in a "dress code violation." The lack of racial sensitivity and blatant disregard for Black culture would later ignite a complaint with the state Education department that noted the school could be in violation of state and federal laws. This unfortunate situation and many others across the country led to the creation of the Crown Act in 2019. This act helps to ensure protection against any discriminatory practices based on race-based hairstyles in the workplace and public school. This initiative is vital to helping people of color all over the world to not only love their hair in any form, but to protect their education and safety at work from people who have misguided beauty standards. As of now, four states have adopted the Crown Act, therefore making it illegal to ban natural hair discrimination. It is just one small step to helping eradicate bias against textured hair and changing the landscape of how Black people are treated.
Learning not only how to love your natural hair but embracing it in all its forms is a topic that is imperative to teach to young girls as they are growing up. While The Crown Act takes on natural hair at the federal level, here are some of the top books you can use to help educate and empower your young girl to love her natural hair from the comforts of home.
Author: Matthew A. Cherry
Ahhh, the book that spawned an animated short film that would later go on to win an Oscar. Hair Love shows the unique bond held between a father and his daughter Zuri as he learns how to care for her beautiful kinks and coils.
2 / 20
Author: C.J. Baker
Meet Amara, a sweet little girl who is still learning how to take care of her natural hair. Readers will enjoy watching Amara develop her weekly hair care routine and embrace the fabulous hair she was born with.
3 / 20
Author: Heather Burris
Heather was inspired to share her personal story by writing her first book, Hair Like Me, to encourage young girls to love their natural hair and encourage more parents to lead by example by instilling confidence in their children at a young age. Hair Like Me is a children's picture book about natural hair and beauty. It's the first of its kind to tell the true story of an African-American mother-daughter journey to discover the true meaning of "princess hair".
4 / 20
Author: Trina Diakabanzila and Grace M.
Often, too many dark, brown, Black and chocolate skinned girls have low self-esteem about their perfectly natural hair; so the author, Trina, and her daughter, Grace, wanted this book to be a reminder that their hair is beautiful just the way it is.
5 / 20
Author: Cozbi A. Cabrera
After a day of being taunted by classmates about her unruly hair, Mackenzie cant take any more and she seeks guidance from her wise and comforting neighbor, Miss Tillie. Using the beautiful garden in the backyard as a metaphor, Miss Tillie shows Mackenzie that maintaining healthy hair is not a chore nor is it something to fear. Most importantly, Mackenzie learns that natural black hair is beautiful. 
6 / 20
Author: Tara Cavoise
When Claire Blair struggles to accept her big, unruly, curly hair, she embarks on a journey to make it look like everyone else's hair. As she tries to smooth her hair—and hide it—and roll it into flowing locks, EVERYTHING she tries fails. But when Claire finds herself in a situation where everyone's hair looks just like hers, she learns a few lessons that change everything she ever thought about her hair. Claire Blair's Unruly Hair is a sweet story of acceptance, inclusion and community. With its charming illustrations and delightful rhyming text, this is a book to treasure. Not to mention, this book comes in four versions—Brown Hair, Black Hair, Red Hair and Blonde Hair to be sure curly girls are represented in every shade.
7 / 20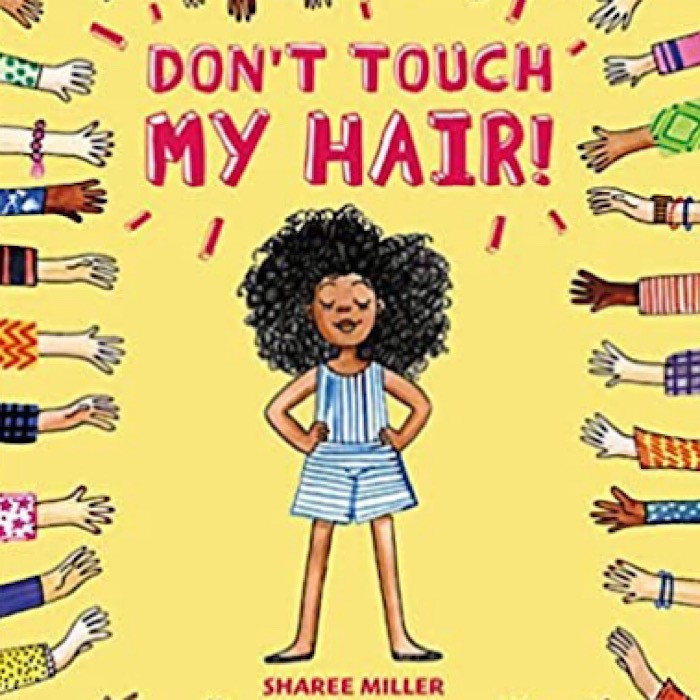 Author: Sharee Miller
Join Aria as she maneuvers through time, space, and the world navigating an array of mythical creatures, animals, and people as she learns the magic of her "fluffy curls" and why not everyone can touch her hair.
8 / 20
Author: Darcel Craft
There is so much to love about the different types of hair textures! Yana celebrates and revels in the versatility of each tendril on her head. This book features gorgeous illustrations that highlight the various ways a naturalista can wear their crown.
9 / 20
Author: Angela C. Styles
It can be frustrating when we're kids and we don't understand why our hair doesn't look like everyone else's. Keely's frustration is at the heart of this story that shows the complexity of self-love and how our parents can help us unlock our most precious gifts.
10 / 20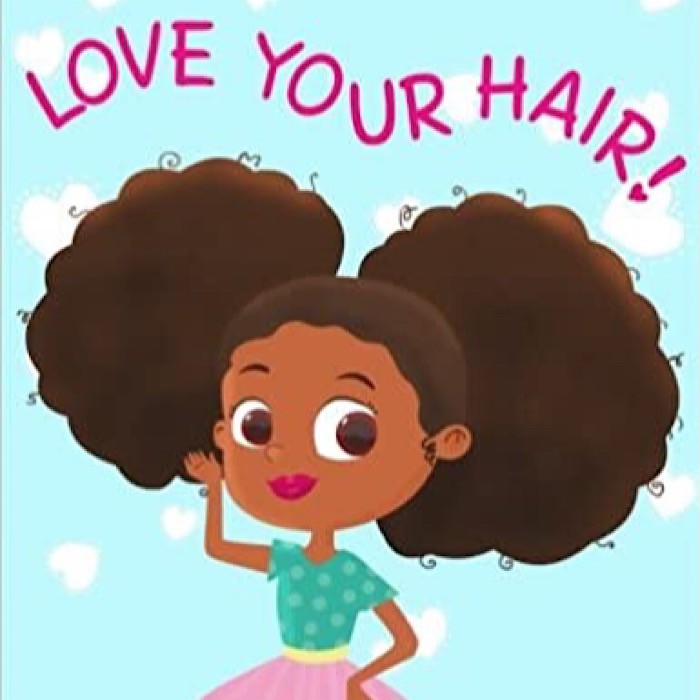 Author: Phoenyx Austin
This best-selling natural hair book introduces readers to Phoenyx, a confident and sassy girl who empowers readers to love their afro puffs, kinks, and curls. Whether you're a little brown looking to go on an adventure or a grown woman wanting a reminder of the glory that is your natural hair, Phoenyx is a character to remember.
11 / 20
Author: E.B. Lewis
This gem has been a staple for readers since it hit the shelves in 2001. Kenyana encourages black children everywhere to be proud of their heritage and to discover the magic of textured hair. 
12 / 20
Author: Ndija Anderson-Yantha
Zuri is known as "the girl with puffy hair," as she rocks an afro that is big and fluffy. She proudly rocks her hair in bantu knots, braids, locs, and constructs them into lovely works of African art. 
13 / 20
Author: LaTashia M. Perry
Hair Like Mine is a fun and easy read following a little girl who doesn't like that her naturally curly hair looks different from the other kids around her. On her quest to find someone with hair like hers, she soon realizes we are all unique and special in our own way.
14 / 20
Author: Crystal Swain-Bates
If you are looking for a book that will help build your child's self-esteem and confidence in a fresh and funky way, look no further than our girl Lola. Lola has super big hair and loves to share with other characters throughout the book how much she loves her big beautiful hair through fun rhymes and songs.
15 / 20
Author: Chelsetia Davis
There is nothing quite as special as learning how to embrace your hair texture. This book follows a young girl who learns to accept her different curl patterns.
16 / 20
Author: D. Lovelitt
We're going down into the deep south of rural Georgia to meet Amina,a seven-year old who is constantly teased about her "poofy hair." After a long journey to visit her Auntie she learns the power of friendship and the ABC's of natural hair care.
17 / 20
Author: Evita Giron
Learning to love your curls is combined with a dose of fantasy in this poignant story that takes stance on social stigmas.Tatiana becomes a neighborhood superhero after stumbling across a mysterious bottle of oil that helps her hair grow long.
18 / 20
Author: Tina Olajide
You'll love following Emi's big imagination that takes readers through all the reasons she loves her big and beautiful hair. The book is filled with vibrant illustrations and playful natural hair techniques and tips.
19 / 20
Author: P.D. Brown
Phoenix isn't going to let the bullies and teasing prevent her from loving her natural hair. Join Phoenix as she journey's through her first day of kindergarten and learns to love her big afro puffs.
20 / 20
Author: Queen K
"Good Hair" takes on a new meaning for Jamal and Nayla who travel all around the world to highlight boys and girls with beautiful natural hair. This is perfect for your tiny tot or teenager looking to explore the world of textured hair through a different lens.
Have you read any of these books? Let us know your favorite children's book below.