Yes, you read that correctly!
There are three curly hair products that you absolutely must have in your naturalista curl vault: a moisturizing detangler, nutrients-packed curl cream, and an elongating gel.
Each of these curly hair products makes styling waves, curls, and coils quick and painless, boosts your texture's natural sheen, and highlights the definition of your unique curl pattern.
3 Curly Hair Products Every Naturalista Should Own
DETANGLER – In addition to having plenty of patience and a gentle touch, your curls will always need a reliable detangler. My recommendation is Aunt Jackie's Knot on my Watch Instant Detangling Therapy, which you can buy at Walmart for about $9. Because it has a blend of shea butter and olive oil, two hair strengthening ingredients, this one is great for curls that tend to get knots easily or if you're looking to protect your ends and edges.
CURL CREAM – As a curly haired woman who is intimidated by products drying and turning white in my hair, I can attest to the fact that Curl La La Defining Curl Custard Cream will absorb into low, medium, and high porosity hair with ease without leaving a gnarly residue! The scent is delightful, very light yet crisp, without overwhelming the senses. It is especially effective for Type 4a – 4c hair that needs moisture and definition.
GEL FOR CURLY HAIR – Every curl in the world should be smooth, frizz-free, shiny, and bouncy. That is just what you will get when you use Don't Shrink Flaxseed Elongating Curling Gel on your curls and coils. The star of this gel is the flaxseed, which is known for its ability to improve scalp health and reduce hair fall.
How will I know which one will work for my hair, G*?
Ahhhh, yes! I am so happy you asked, friend. I know that you want to choose the best products for your texture type and curl pattern. That's why I took the guesswork out of the equation and partnered with Aunt Jackie's to show you just how effective all three of their products are!
Let me show you how perfectly Aunt Jackie's works on low porosity, Type 4 curls!
What I liked most about applying Aunt Jackie's Curl La La Defining Curl Custard Cream to my hair was the slip it gave my curls. It was clear to me that it would give me the perfect style.
As you will see in the video below, my dense curls are defined and fluffy, which makes me beyond thrilled with the detangler and curl cream. Both left my hair feeling like a million bucks, and my second and third day Afro was a sight to behold. I will definitely use these for my braid- and twist-outs.
Now, take a look at how Alexandra's medium porosity 3C curls get that extra burst of Ahhhhh-mazing!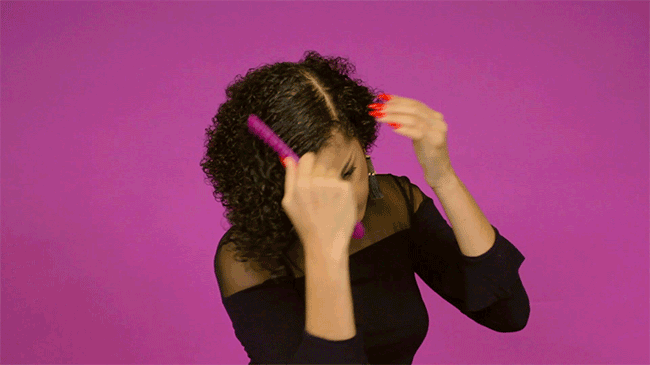 "I don't usually use gels and was very impressed with the Aunt Jackie's Curls & Coils Don't Shrink Flaxseed Elongating Curling Gel. It left my hair moisturized, defined and extremely soft. I think most gels have a bad rep for making textured hair flaky, sticky and dry, but that was most certainly not the case for this gel."
Nourished, defined, beautiful curls are just a click away!
Two-strand twists, finger coils, mega-fros, and bouncy wash and go styles are so much easier to achieve when you have a detangler, curl cream, and curly hair gel that actually work.
Watch these curly hair products in action!
At NaturallyCurly, we put all products to the test. But this time around, we wanted to test our knowledge of Black History Month!
That's why we partnered with Aunt Jackie's to see if we could not only get great hairstyles with their products, but also multitask while styling. Watch NaturallyCurly Editor Alexandra Wilson and me style our hair while answering Black History Month trivia questions!
Which Aunt Jackie's product are you using? Share your experience and your trivia answers in the comments below!
Thanks to Aunt Jackie's, you really can have it all!
Get all 3 Curly Hair Products Every Naturalista Should Own right now from select Walmart stores:
Then, tell Alexandra and me what you think! Show off! Tag us @naturallycurly and @auntjackiescurlsandcoils in your IG selfies so we can double-tap on your amazing hairstyles.
As ever, stay curly!
This post is sponsored by Aunt Jackie's.