You voted and we tallied up the results to bring you the NaturallyCurly Best of the Best awards for 2021. Out of the hundreds of gels on the market, you may be wondering what differentiates one from the other/ is it texture? Consistency? Formula? Gel has had a serious comeback in the past few years as new businesses and brands have found a way to reinvent the crunchy curls of yesteryears with a firm hold and definition that truly awakens your curls. A good gel product has the ability to be extremely versatile and is more creating a shape than leaving a sticky mark. What the modern day gel does for naturalistas is to enhance our natural texture and provide our curls with much needed moisture, especially when it's humid outside.
These gel selections below are staples for our naturalistas whether they are creating a classic wash and go, laying down their baby hairs, or braiding a protective style. They have been tried and tested for their amazing formulas, anti-frizz effects, and ability to lift the curls instead of weighing them down.
We have a winner for Type 2 wavies, Type 3 curlies, Type 4 coilies, and an overall winner. If you're not sure what your curl pattern is, you can take our Texture Type quiz to learn more about it along with your porosity, density and width. 
Check out our 2021 Best of the Best Gels!
2 / 5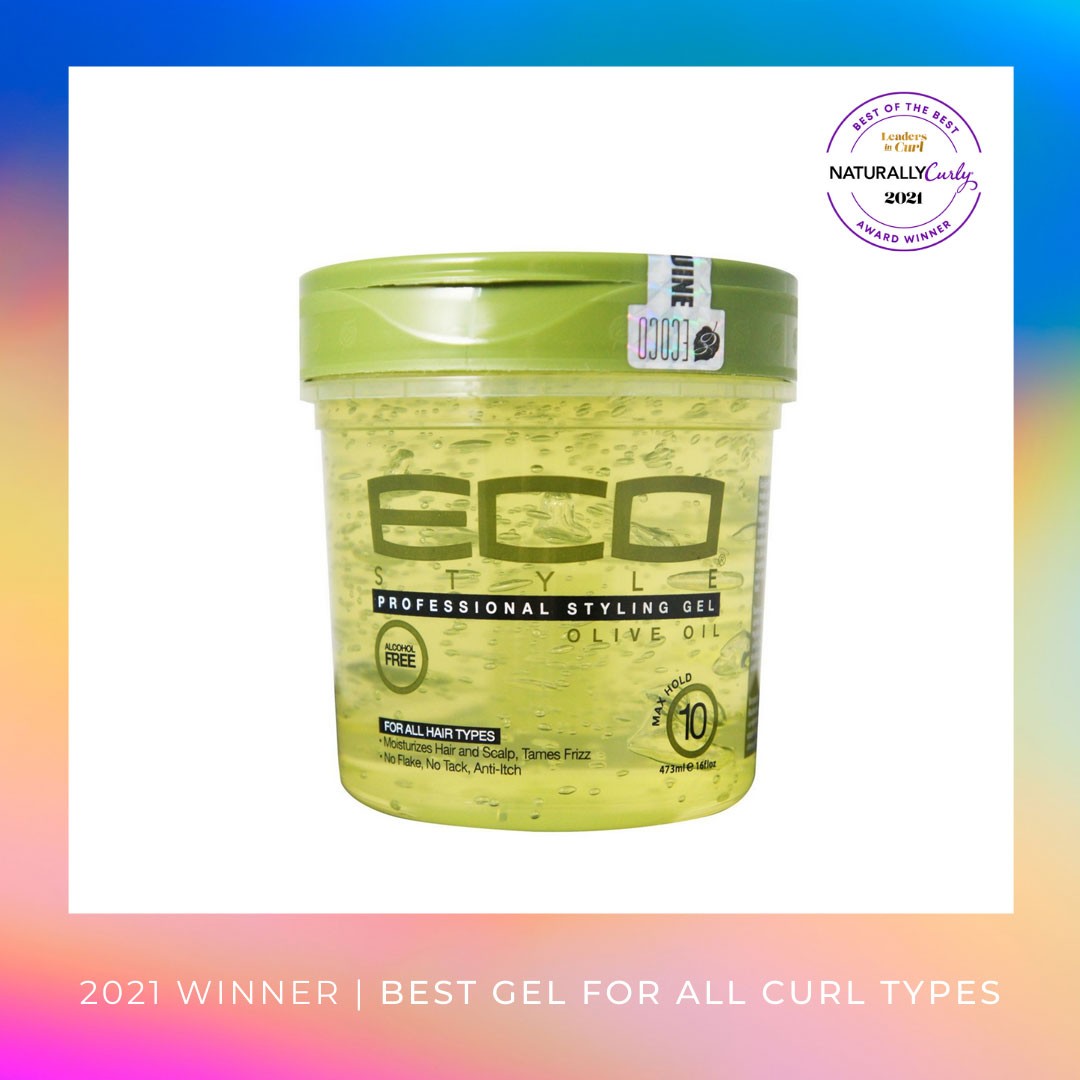 Best for All Curl Types
This is a gel classic for curlies because it has a great shine and unlike other gels add moisture back into the scalp. This is the OG of gels and has continued to be a staple for naturalistas everywhere because it absorbs into the strands which can produce stunning results whether you're looking to create twists, braids, bantu knots, or a wash and go style. This reigning "Best of the Best" winner is beloved for its versatility amongst all curl types, alcohol free formula, and UV protection which means your curls can bounce happily in the sun. The 100% pure olive oil combination with the gel creates a moisture that gives back to your curls and won't weigh the hair down. It can be applied to wet or dry curls and won't create any itching or flaking to the scalp! A little goes a long way with this fan favorite so start stocking up your shelves.
3 / 5
Wavy Type 2
If you're looking for a gel with a little extra oomph to hold your curls together, my wavy friends, this is your gel. What makes this a fan favorite amongst curlies is the certified natural and organic ingredients that make it eco-friendly for the vegan user. A few of the ingredients include flower extract from honeysuckle, aloe, and cucumber that result in a light scent that won't overpower your curls. For wavy users, definition and hold are important in a gel BUT it cannot weigh down your hair. As a firm hold gel this product is all about preventing frizz and retaining moisture which results in a shiny, defined, and moisturized effect that you will love.The consistency is thick and firm so a little goes a long way and it is best used on wet or damp curls. If you're looking for maximum frizz-control, this is the gel to add to your cart.
4 / 5
Curly Type 3
Argan oil is here to stay with this 2021 "Best of the Best" winner that is here for type 3 curlies looking to slay. If you're looking for a gel to help revitalize the hair on day 2 or 3 then this is the gel to keep handy. The argan oil conditions and protects the curls with an amazing shine that will make your curls restored in between washes. Argan oil is derived from Morocco and can help shine, smooth, and condition the hair. It's popular for helping lay down edges and doesn't leave white residue when it dries which makes it a grade a winner to use between wash days. It can be used on wet or dry hair and is alcohol free which means no crunching or scrunching. Like many Ecoco products it is extremely affordable, can be purchased at a drugstore and doesn't require a ton of product to be effective.
5 / 5
Coily Type 4
A gel so good, we had to put it on here twice! For our coily, kinky-type 4 naturalistas, Ecoco Eco Styler Olive Oil Gel remains supreme as the go-to gel to use on your hair. The alcohol-free formula makes it gentle on the scalp but has a thick enough consistency to hold a number of hairstyles. Whether you're sporting a protective style like braids or cornrows or creating a puff, your hair will remain moisturized, hydrated and happy. The olive oil combination can also help promote healthy hair growth and rejuvenate the scalp instead of causing flake or itch. Apply your favorite styling techniques using this little piece of heaven.