NaturallyCurly was started to help women with naturally curly hair embrace their texture and love the hair that grows out of their heads. For some women that means going all-natural and mixing their own homemade products, for some women that means coloring their hair every color of the rainbow to express their personality, and for some women that means rocking their hair in whichever style matches their mood and outfit that day – whether that means, curly, coily, wavy or even straight.
Through our market research we know that our community wears their hair naturally curly most of the time, but not all of the time. Wavies wear their hair natural an average of 78% of the time, while curlies and coilies wear their hair natural over 90% of the time.
The risk of styling against the grain of our natural hair type is that it's easy to damage our hair in the process. Cantu was created to keep your style options open, with the added benefits of protecting and nourishing your hair – without regrets later! 
When choosing what to eat for lunch, a health-packed, crunchy salad is a fabulous choice most days, but sometimes we crave a cheesy, hot slice of pizza. Respecting and understanding our need for fun and versatility, Cantu Beauty has created both wavy and straight hair care products that allow us to do just that. The products give us the option to rock our natural texture or go sleek and straight for a few days by adding nourishing and restorative ingredients like pure Shea butter. Style your hair exactly how you want to wear it that day, guilt-free!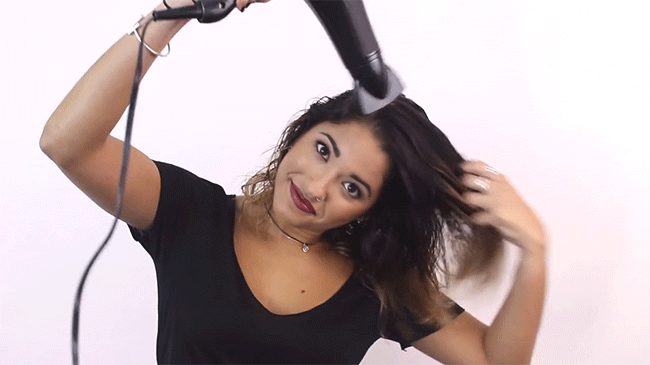 Play It Straight
University of Texas student and full-time yogi Isabella explains that she likes to straighten her naturally wavy hair often, and worries about the heat damage and breakage that can result with that repeated choice. Applying heat to the hair repeatedly is usually a big no-no when it comes to styling curly hair if you want to avoid heat damage. By applying the Cantu Thermal Heat Protectant to her clean, damp hair prior to blow-drying, the result is smooth, straight, and most importantly protected hair. After her blow-out session, she increases shine and fly-away control by smoothing on a few drops of Cantu Anti-Frizz Oil to the ends of her hair. Hair damage attributed to straight-styling has been successfully averted!
Rock It Wavy
Of course natural styles demand an extra boost of definition and shine too, and if that's your preference, Cantu has it. Going back to her waves, Isabella washes and scrunches into her hair some Cantu Curling Wave Whip Mousse.  Moisture-packed, pure Shea butter in this formula adds weightless moisture and volume to the hair without leaving the bewildering crunch and stiffness of some styling mousses.
For second-day wavy hair styling, Cantu Comeback Curl assists to refresh vibrant bounce and shine. Simply spray on the hair and re-scrunch to freshen things up and keep those waves lively.
Cantu leaves out harsh ingredients such as mineral oil, sulfates, parabens, silicones, phthalates, gluten, paraffin, or propylene in these products so you can avoid extra dryness.
Isabella's busy lifestyle and college-student budget require hair care products that can accommodate her styling choices and not slow her, or her hair, down. Cantu provides a no-excuses permission slip to style your hair however you may want it – wavy to straight and back again.
See Isabella's waves in action below!
How do you feel like wearing your hair today? Let CANTU help you decide!
[prodmod]
This post is sponsored by Cantu.