What was it like for you growing up with textured hair?
Like many other now proud curlies, I did not feel comfortable with my hair texture. I used a lot of water & products to weigh down my hair because the volume made me self conscious. My mom, who I got my curls from, taught me valuable tips to maintain healthy curls, but I still felt self conscious by the comments made by others, strangers or classmates. By 9th grade, after begging her and my dad for my years, she allowed me to chemically straighten my hair. I still needed to spend hours smoothing out my hair, but had lost all curl definition. It took about 2 hours to straighten my hair and I did this a couple times a week. I remember my dad seeing me pass the flat iron over and over a section and saying "Enough, it's straight already" lol.
2 / 5
What made you decide to embrace your naturally curly hair?
A few things triggered the transition to embracing my naturally curly hair. One, I was starting to notice thinning due to over processing (straightening & dyeing). Two, I saw my brother grow out his hair (rock band vibes); it was stunning. I had a new appreciation for my hair texture when I saw my brother flaunting it proudly. Lastly, I started to experiment with natural skincare products and a holistic view at health which made me question the ingredients in my hair care. I started to repair my hair using tips my mom showed me and of course the natural hair community on YouTube. @SpankieValentine was the first influencer whose routine I followed to regain my hair health. I found a DevaCut specialist in Los Angeles who coached me on CGM.
What has been the most empowering moment of your hair journey so far?
The most empowering moment thus far would be seeing my influence on curly girls across the globe. I love receiving DM's and sharing success stories or photos; girls of all ages expressing their appreciation for being curly and proud. In addition to my overall confidence; there is something about being naturally YOU that makes you feel powerful in all other aspects of your life. I have been rocking my curly hair for about 8 years now.
How do you protect your curls at night?
Most times I will throw on a silk bonnet. I get mine from an IG seller @raynestorm2017. Or I will use a silk scarf with the knot tied on the top. Whatever I use, it needs to be comfortable because I am a fussy sleeper :)
3 / 5
Who is your curl crush?
I have a few! But if I had to pick one, I would say @Joyjah. She is so stunning inside and out. I love watching her stories, especially those from her hometown in Belize. I also have an obsession with red curls!
What's your curly girl essential you can't live without?
Leave-In Conditioner! This was always a staple for me, even as a kid. My mom always said, "make sure you use lots of leave-in!". On a relaxing Sunday I will ditch my gel or mousse stylers and give my hair a break with just a leave-in conditioner.
4 / 5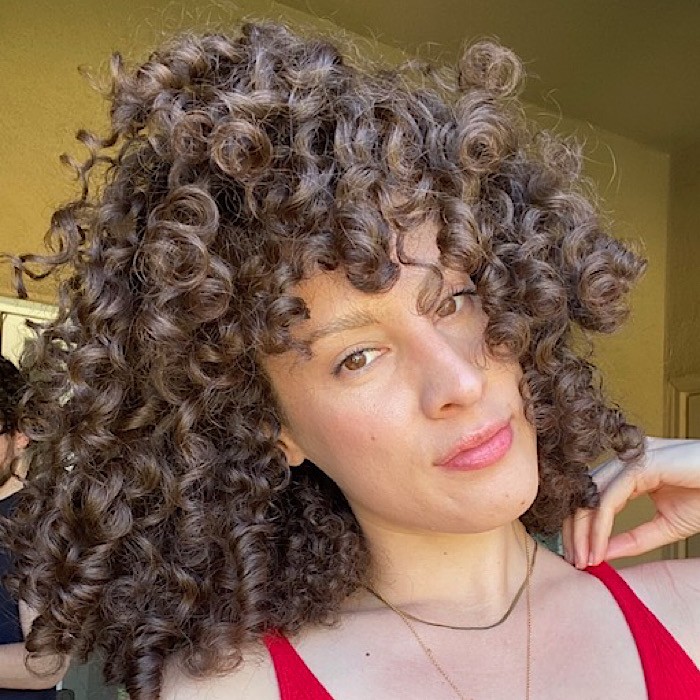 What is your current hair regimen? Any favorite products you'd like to share? 
My current regimen is washing 1-2x a week and DeepConditioning. I usually deep conditioner out of the shower for an hour and rinse in the sink! It's easier... My favorite products right now are Rizos Defining Cream, EcoSlay Flaxseed Gel, Oway Organics Curly Potion, Bouncecurl CremeGel & Shampoo, SheaMoisture Deep Conditioner, Mielle Organics Deep Conditioner, OGX Beauty Combing Creme, Garnier Fructis 1min Hair Mask, Aussie Moist 3 Minute Treatment, Not Your Mother's Shampoo & Conditioner.
What has been the most challenging moment of your natural hair journey so far?
The most challenging part has been finding quick, easy and hairstyles for work. I can't wear my hair down in my current job & I wasn't always comfortable in my last job. My 3rd day hair turns heads in meetings lol. I found some elegant updos on YouTube that are simple for quick morning routines and do not put too much tension on my curls.
5 / 5
Are there any techniques or methods that have made a huge impact on your hair health?
Water, conditioner and gel with good ingredients are the most essential pieces. Everything after that is extra in my opinion. I did not deep condition for most of my hair journey in the beginning... shh... don't tell on me hehe. The Denman brush was also impactful! There are different methods to using it, but it helps with detanging and getting defined curls!
What's your advice to women who are still struggling with loving their natural texture?
Curly hair is gorgeous and being different is cool, don't let anyone tell you otherwise ;) I still get negative or odd comments about my hair in 2020, but they are outweighed by positive ones now. My favorite response to someone's negative comment is "Good thing the hair is on my head & not yours..." hehe.