What was it like for you growing up with textured hair?
It was a nightmare because my mother didn't have curls, and she didn't know how to treat my hair. She brushed it! I always remember myself with a ponytail or short hair.
That made you decide to embrace your naturally curly hair?
When I was 15, I started taking care of it and let it grow.
What has been the most empowering moment of your natural hair journey so far?
Creating a very new curly hair community in Spain. Making a place for all Spanish curly women to share and learn.
How do you protect your curls at night?
I always sleep with a silk pillowcase, and the first 2 days I wear a buff.
2 / 3
Who is your curl crush?
My curl crush is @stylefeen.
What's your curly girl essential you can't live without?
My hair dryer Diffon 1 from @Bellissima_es!
What is your current hair regimen? Any favorite products you'd like to share?
Every 6 weeks "Revival Pro" intensive protein protein treatment from @biosakure. And I love my combo Bounce Curl Cream Gel with Booster from @cocunat.
3 / 3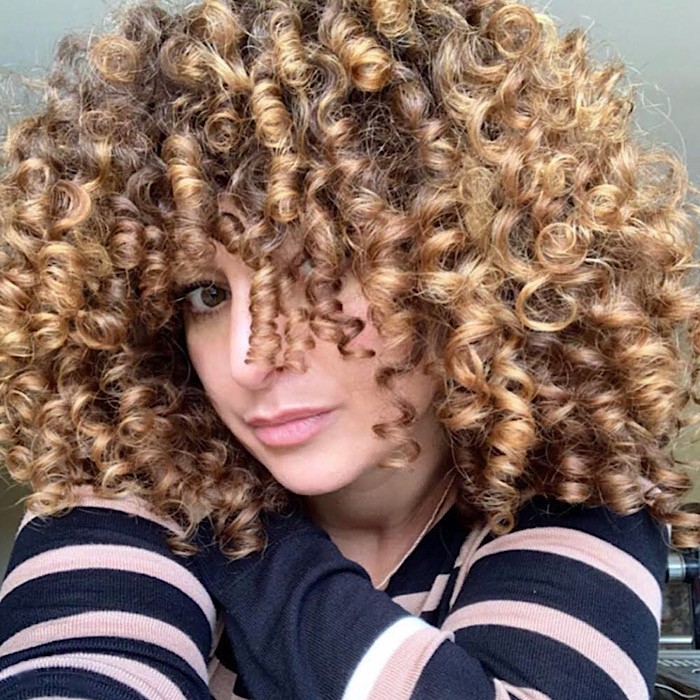 What has been the most challenging moment of your natural hair journey so far?
Two years ago my curls were damaged by highlights and then my curls disappeared! I had to recover them by myself. Thanks to that terrible experience, I discovered this big curly hair community that I love so much!
Are there any techniques or methods that have made a huge impact on your hair health?
The curly girl method, instensive protein treatments, and the Denman brush technique!
What's your advice to women who are still struggling with loving their natural texture?
Understand your curls
Treat them with love
Be patient and constant
Use clean products
Trim very often
Your hair will surprise you!