What was it like for you growing up with textured hair?
Well, there was always a feeling of wanting to fit in like the rest. Everyone in school had a perm or their hair straightened and so I know I wanted the same. My mom never shamed me for having textured hair, if anything it was becoming hard to manage and so when I entered 5th grade, I got my first perm.
What made you decide to embrace your naturally curly/coily/wavy hair?
My sister was my inspiration to go back to my natural coily hair when she embarked her natural hair journey. There's nothing like having someone with you on your journey who can help you and cheer you on! She was the first one to do my very first big chop.
2 / 4
What has been the most empowering moment of your natural hair journey so far?
The most empowering moment of my journey was back on February 17, 2017 when I needed to embark on a different journey, self-love. It may seem so cliche but I felt hair care is self care. I never took the time to take care of myself for myself, big chopping my hair for ME. Granted I wondered what others would think but I was in a place of contentment and learned to love myself in the deepest way ever.
How do you protect your curls at night? 
Two words: Satin Bonnet. Everyone that knows me, knows I live in my satin bonnet. Using that has been a big game changer in retaining moisture and length while also preserving my styles. Also using satin scrunchies to stretch my hair throughout the week.
3 / 4
Who is your curl crush? 
Hmm, that's a hard one. I have two: Mini Marley and Naptural85. Those two helped me so much in my natural hair journey.
What's your curly girl essential you can't live without?
I would have to say my bonnet. That is a must wherever I go. I feel its essential to preserve your hair.
What is your current hair regimen? Any favorite products you'd like to share?
I wash my hair every week, deep condition every week and add some herbs to it to enhance my conditioning session, I dust my vends every week and trim every 6 weeks and also make sure to incorporate a clay mask reset for my curls using Moroccan Rhassoul Clay. My favorite hair care brands are Natures Little Secret, Taura Amore, Curls Dynasty, Uniqurl, Earthborn Organics, Moisture Love. (I can go on lol)
What has been the most challenging moment of your natural hair journey so far?
When I saw how damaged it was back in 2016. I've been natural for 8 years and big chopped 3x but not until the third time did I really take it seriously. I had to let go and start new. It was a challenge at first but liberating in the end.
4 / 4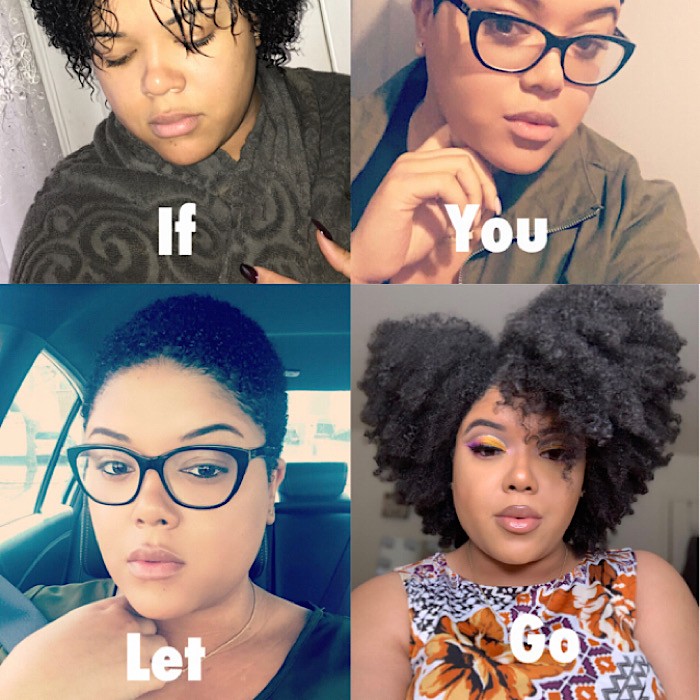 Are there any techniques or methods that have made a huge impact on your hair health?
I would say stretching my hair has helped to decrease the amount of tangles I have. For my thicker texture and low porosity hair, doing twists really help to maintain my hair throughout the week. Also incorporating steam in my DC sessions during wash week.
What's your advice to women who are still struggling with loving their natural texture?
My advice would be to search behind your coils and texture and see the woman you TRULY are. When you've discovered the real you, you will be able to invest in yourself and your journey and it'll reflect on how your hair will flourish. Invite opinions but don't let them define you!