Like many of us, we began perming our hair at an early age and never knew our true texture until we finally put down the straightener or relaxer and embraced our natural hair. Whether we felt like our hair was ugly, we wanted to fit in or our moms had no clue on how to care for our curls, we most likely didn't learn how to take care of our hair until we were young adults. Thankfully, times have changed and we now have plenty of youtube tutorials and countless products and knowledge to embrace our beautiful curls and empower other women to do the same.
Recently, a young woman named Emerson transitioned after perming and straightening her hair consecutively since she was 8 years-old. She had damaged her hair severely to the point where she was told she would have to shave it off in order to save her hair. Her story is a reminder that your natural hair will be a journey, not a destination and it's never too late to start. "Growing up with curly hair was pretty hard for me. I live in a small town with very few bi-racial kids. I used to always worry about fitting in. It seemed like no one had my kind of hair so I thought it was ugly and I wanted to just look like everyone else. It was also hard for my mom to figure out the right products or learn how to care for my hair, so I started getting relaxers and straightening treatments. Honestly, since I was about 7 or 8 years old I haven't even known my curl pattern because of relaxers."
2 / 5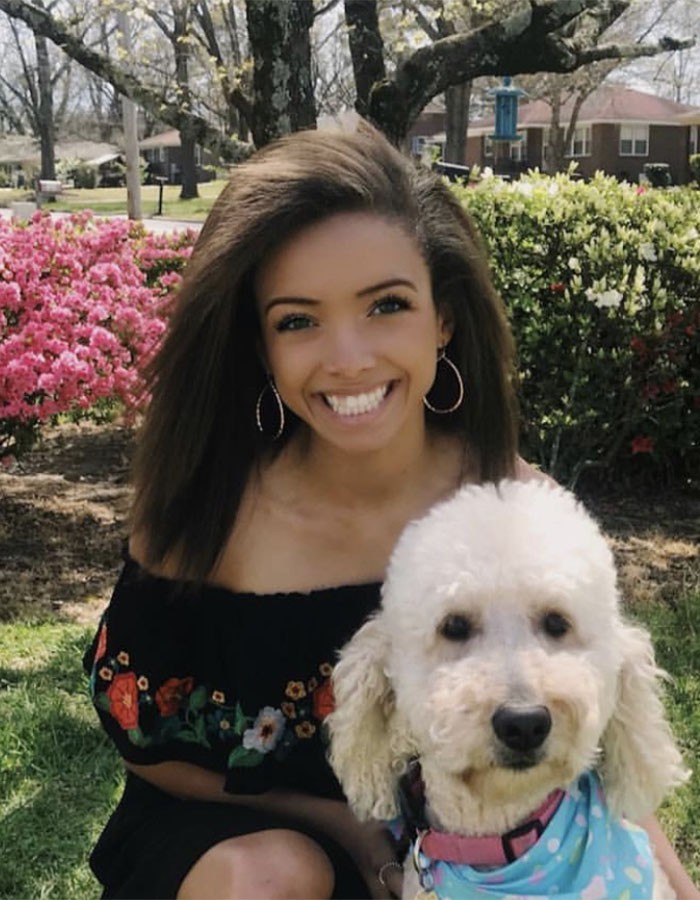 I reached out to the stylist and founder of Southern Curl ATL, Robin Sjoblom, who helped Emerson make this transition as smooth as possible to empower and educate her on how to rock her natural crown of curls with confidence.
3 / 5
What was the process like helping Emerson transition?
Every approach I make to a new client is authentic and heart felt. When I saw Emerson and the state her hair was in, I literally cried. I held her hands and told her she was about to lose all of her hair if she continued to straighten her curls. The breakage around her hairline and front area was so severe... it was literally fried and broken off to about an inch in areas. She was 16 at the time- a very sensitive age and social time of her life. I knew she wouldn't do a big chop, but I told her that she was not going to be able to use heat on her hair for at least a year from that initial visit. I explained to her that it would be baby steps if she didn't want to go all the way, but that would celebrate the small successes and she would see a huge difference each time she came in. I recommended her to deep condition monthly with Olaplex treatments. She agreed. We did a cut every 3-4 months. She cried every time. One day she didn't want to even get out of the car because she felt so ugly. We cried together and pushed forward. Every visit was progress. She started to see a change and started trusting and believing in the process. She started to smile and was happy to wear her hair in a puff for once. She became curious of what her curl pattern was ... she began to embrace what was her God given hair.
4 / 5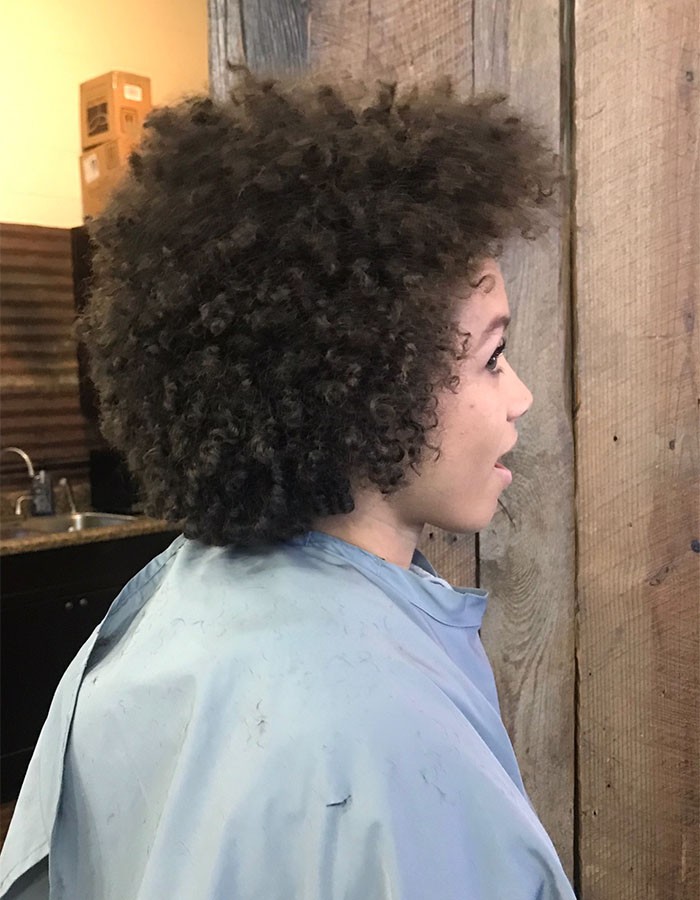 What products and techniques did you use to repair her damaged hair?
We initially did a deep conditioning treatment with steam using Terrene Fusion moisturizing deep conditioner which contained a good bit of protein followed by an Olaplex treatment. We trimmed a lot of the straight pieces and showed her mom how to do a twist out (a protective style to hide the straight ends). Her go to products during the journey have been Innersense Organic Beauty. We chose them because of their clean ingredients and moisture content. They are unsurpassable when it comes to moisture. After her 3rd visit we taught her how to do a proper wash and go. She has less straight ends and was happy to wear it in a puff. She saw progress. Weekly deep conditioning was helping her new growth.
What are your do's and don'ts for those transitioning?
Decide if you want to do the journey and take time/ do protective styles or are you a girl who wants it over and done with and would rather just start over? Find a curl specialist that you have seen their work. Realize that it may take awhile to get to the goal but every appt is a step in the right direction.
5 / 5
Can you share any other recommended products and techniques for those transitioning?
Moisture is key. Steam treatments and regular trims will get you there the fastest. Twist outs are a quick way to hide those straight ends while protecting the curls and adding a polished look.
What advice can you share with curlies who are on the fence about transitioning?
Know that it's worth it. That you are worth it. It's only a few months that the cut will make you feel "naked." Once you embrace your desire to rock your curls, you will never look back. To be in a room full of other curlier is super empowering and a beautiful thing. Moms have Been transitioning so that their little daughters don't want to straighten their curls... it's multi-generational and freeing to realize that the curls you were born with are actually still there- and that they just need some TLC.
Emerson: Go for it!! Figure out a style that you can live with during the transitional part and a salon that can teach you how to manage and love your curls. Robin and the staff of Southern Curl in Atlanta have been just that for me.
Are you transitioning? Let us know how we can help, drop your top concerns and curly girl struggles below.