It's Women's History Month, and at NaturallyCurly, we are proud to be women everyday.
Just in case you missed it: it's Women's History Month!
To celebrate, we have been highlighting some of our favorite stories, including impactful current events that make us most proud and conscious as women, and encouraging personal essays to lift one another up in this era. 
Here's a hand-picked selection just for you and all of the strong, beautiful women in your life.
(They need encouragement, too--pass it along!)
"Did you know? Shirley Chisholm was known for hiring an all women's campaign staff; more than half of her staff were African Americans. Her goal was to empower women to be politically involved and saw that there was more discrimination for being a woman in a male field than racial discrimination." -Ajia N. Eberhart, NC Content Contributor
Read the full story here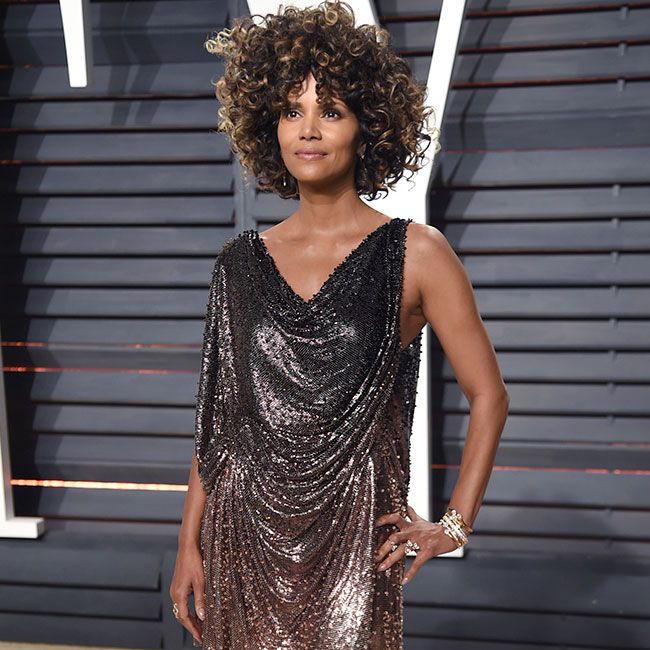 In the black community, we like to call women who age beautifully "like fine wine," and Halle continues to prove that sentiment to be true. In public and on social media, the actress has never shied away from celebrating her color, age, shape, and achievements out loud with such a divine sense of grace." -Devri Velazquez, NC Content Editor
Read the full story here
Sabrina Boissiere, founder of Natural Partners in Crime, was inspired to bring the natural hair community an event where women can connect with other naturals in cities that are sometimes overlooked, so she created a 5-city tour where naturalistas can be empowered and educated in an interactive setting. The first stop of the Quintessential Naturals Tour kicked off right here in Austin, TX this past weekend during SXSW with over 1,100 people in attendance! These discussions matter. Representation matters. This community matters. We're so proud to be the media sponsor of this tour and supporting this initiative to shine a light on ways to bridge the gap in the beauty space where all women are represented. -Alexandra Wilson, NC Content Editor
Read the full story here
It is heartening to be privy to a little bit of what happens in this relationship. To see Tracee encourage and support Yara as she grows and awakens to the issues in the black community and how she can make a positive influence. It is great to see positive female relationships of any kind and particularly pleasant to read this letter of love, support and encouragement at a time when "diss tracks" and bad blood have been dominating headlines in black entertainment. -Vanessa Osbourne, NC Content Contributor
Read the full story here
"Frida is hypnosis. She is the fierceness that the modern women continues to look to for inspiration, comfort, and culture. Frida acknowledges and identifies that it is ok to be hurt. It is ok to be angry, and it is ok to have a freaking unibrow. It is also ok not to be everyone's cup of tea, because you are not a woman that only exists for the appeasement of others." -Lauren Murray, NC Content Editor
Read the full story here
"In her latest interview with David Rubenstein she shares her remarkable journey and proudest moments in her career, which have nothing to do with her accolades, but the power of being her authentic self. I truly believe that the more we become aligned with our inner self and share our truths, the more we can achieve. Here's to all the brave women that embarked on untouched territories and blazed a trail of greatness!" -Alexandra Wilson, NC Content Editor
Read the full story here
"Urbanbella is a beauty brand that is known for offering our high-performing curly hair products...During our twelve years in the natural hair market, our focus has been on educating women on how to manage their naturally textured hair. Urbanbella delivers both healthy ingredients and superior performance for textured hair. There are a lot of products on the market that really do well with ingredients and smell great, but very few of them make hair easy to work with…We style our clients with our own line and have only used Urbanbella products for 6 of our 11 years as salon. We know that if it works the way we intended, it is because it has been tested in our salon for usually a year before it is for sale." -Keneesha Hudson, Founder and creator of Urbanbella
Read the full story here
"Last week Rihanna was awarded with the Humanitarian Award by Harvard University for her work founding an oncology center for breast cancer patients, as well as the Clara and Lionel Foundation Scholarship Program, a foundation that supports Caribbean and South American students who plan on attending a U.S. university. In her acceptance speech, the singer shares her own reasons for wanting to start a foundation, namely her late grandmother, Clara Brathwaite. Using her celebrity and socioeconomic statuses to financially support causes near and dear to her, Rihanna proves that being a humanitarian can unabashedly extend beyond physically present community service or charity work." -Devri Velazquez, NC Content Editor
Read the full story here
We grew up watching the maternal figures in our family braving any and every potentially meltdown-worthy situation, from finances to illnesses. The cycle has continued and needs to stop. We don't have to be defined by the stereotypes; it is possible to break through to the other side and achieve total peace of mind. By first acknowledging the stereotypes behind the stigma, we can begin an open dialogue and from that point, we can choose to overcome our fears of weakness or vulnerability. Yes, we are black women and we can do it all. But we shouldn't be afraid to ask for help when we need it." -Devri Velazquez, NC Content Editor
Read the full story here
Corporate lawyer, Harvard graduate, black female CEO and entrepreneur with products in Target and Whole Foods,  possessing any one of these titles is a testament to strength and perseverance in the face of adversity. Chris-Tia Donaldson holds all of these titles, plus one more - breast cancer survivor.
While her hair care brand Thank God It's Natural, also known as tgin, was making its way onto the shelves of stores like Walgreens, Target, Rite Aid, and Sally Beauty, Chris-Tia was undergoing chemo and radiation for breast cancer. Chris-Tia has been sharing her journey on her Instagram, @tginceo, and she agreed to share her story with the NaturallyCurly community from the experience of the mammogram to the decision to freeze her eggs, and how she managed to do this while growing her company. -Cristina Cleveland, NC Managing Editor
Read the full story here
"Alicia Keys is a songwriter, producer and pianist who debuted in the early 2000's rocking her braids with beads and intriguing designs. She recently stopped wearing make-up and is using her platform to rise above the criticism from the media to empower women to embrace their individuality." -Michelle Thames, NC Content Contributor
Read the full story here
"As a young woman who self identifies as black Borinquen, much of my assessment of physical beauty and self-love has always involved hair in one way or another." Paula Ramirez, literary artist, poet, and educator
Read the full story here
"Sonia Sanchez's early work depicts her thoughts on the connection between mother and child. Much of her poetic content was derived from her introduction into the world of motherhood when she gave birth to children of her own. Not only did Sanchez have strong and unbreakable thoughts on motherhood, she was also a feminist. In the 1970s, Sonia Sanchez joined the Nation of Islam. Sanchez's perspective of the power of influence that the woman possessed conflicted with the beliefs and teachings of the Nation of Islam, which caused her to cut ties with the massive organization after three years of membership." -Ajia N. Eberhart, NC Content Contributor
Read the full story here  
"And so I write for me and for us. It's been a year so far. One complete cycle round the sun of actively creating Craving Yellow. It's been a wonderful journey of exploration and I'm inspired to keep writing and to keep sharing my life with you, raw and unedited, so that even if in the slightest, your days might be brighter, your existence might be affirmed." -Craving Yellow, NC Content Contributor
Read the full story here
"Bridging the gap between knowing and feeling is the very thing the people of this world need right now. With the state of our nation currently appearing to be in shambles, it can be easy surrendering to stress and anxiety. Amandla is working to encourage others to channel their energies into something more profound and meaningful." -Devri Velazquez, NC Content Editor
Read the full story here
Beautiful woman, you are strong, you are intelligent, and you are dedicated to being the best you, every single day. Don't let anyone try to make you feel or think anything differently.
How have you celebrated Women's History Month?
Tell us in the comment section below, and follow us on Instagram for more inspiration @NaturallyCurly.