Move aside, ombre and balayage--there's a new girl on the block of modern hair trends and she's stepping out making her own bold moves.
You may already be familiar with the trendy "mermaid" or "unicorn" hair colors.
Although mermaid hair is a close cousin, opal hair is way different. The latest hair coloring trend was created by a talented hair colorist by the name of Aura Friedman from Sally Hershberger Salon. The origin of her idea was sparked by the inspiration of a beautiful and mystifying stone, the Opal gemstone. Fun fact: The Opal is the national gemstone of Australia and the birthstone for October babies.
How to get opal hair
The hair is to be bleached as light as possible (or as light as desired) and the base color is a pearly hue which serves to emulate the mesmerizing translucency of the opal gemstone. After the pearly layer is applied, you can add any (and all of the) pastel color that your heart desires--pink, green, purple, blue, red, orange, and yellow. If you want to get really creative, ask your colorist to mix the dyes and create a unique color combination to rock something no one else will have.
Unique, bold, and beautifully crafted, this hair color is everything packaged in one look. The only downsides to having this hair are pretty obvious--possible damage and upkeep. This look requires tedious retouching to keep the colors looking fresh, although the colors don't really look that bad as they fade away because it adds to the opaque gemstone effect.
If you need inspiration for your stylist/colorist, check out these 5 awesome girls who rock opal hair:
Amina Mucciolo is a fashion and lifestyle blogger and she often refers to herself as a mermaid and unicorn. This black beauty rocks long luscious locs in many cute cotton candy colors.
Larayia Gaston is a creative director on apuletown.com and she rocks long locs in the colors blue, mint, pink, purple, magenta and pearl white.
This awesome lady has a photography account on instagram and a cool nail art blog, too. She is rocking simple opal hair and her pearl undertone hue is spot on.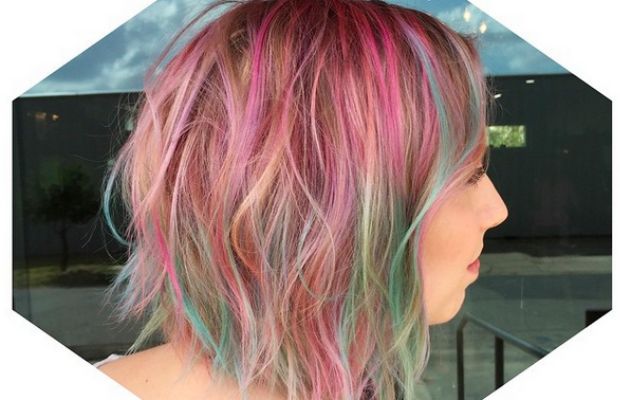 Singi Vo-Peters is a hairstylist and colorist in the heart of Texas. She likes to go big with the newest hair trends and she tried out opal hair on one of her clients @tyler_leann and the result was a gorgeous rose pink mixed with streaks of blue and green.
Rachael Phizacklea has a YouTube channel where she posts vlogs and tutorials on her hair dye experiments. Here is her latest dye job and it's a beautiful pearl blue with streaks of magenta, green and pink.
Opal hair= Yay or nay? Let us know what you think.