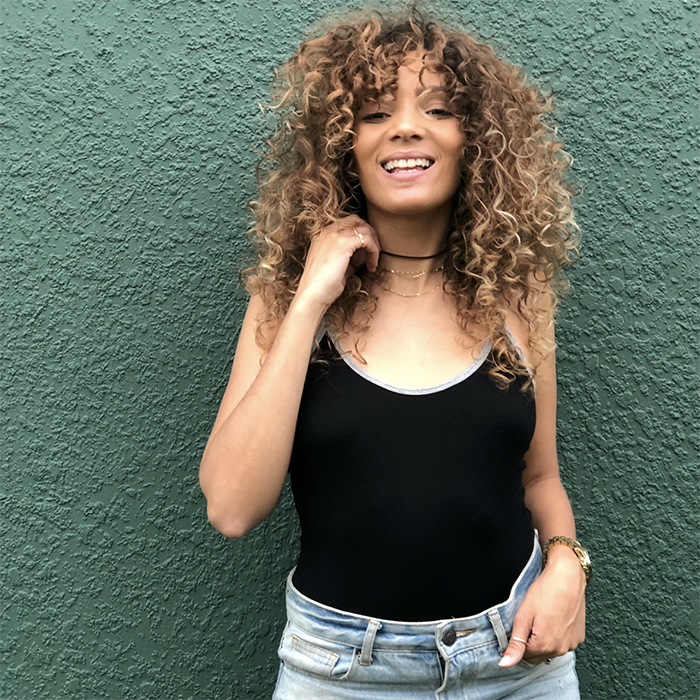 Although many people with curly hair struggle with too much volume, others face the opposite problem. "Fine curly hair is one of the most challenging hair types," says Christo of Christo Fifth Avenue. Caring for fine curly hair can be a delicate balance. Too much product—or products that are too sticky or heavy—can weigh it down. But without the right products, the hair can lose its definition and get frizzy.
"They're actually lucky their hair is curly," says Jonathan Torch of the Curly Hair Institute in Toronto, Ontario, creator of Curly Hair Solutions. "The curls add volume. If it was straight, they'd have to rely on a perm."
The right cut and styling products are especially important for fine curly hair.
Tips for styling fine curly hair
1. Avoid a long haircut
Long hair is not recommended because it can pull out the curls and make the hair look even finer. Torch likes to cut it short at the perimeter, leaving the top longer.
2. Avoid chemical processes
Fine curlies may want to stay away from chemical processes like thermal reconditioning or straightening. Without the curl, their hair loses all of its volume and can look flat and lifeless.
3. Incorporate color
Coloring the hair is recommended because it roughens up the cuticle. The color also adds shine, causing light to bounce off the hair, not the scalp, making the hair look fuller. Darker shades, like auburns and browns, look better than lighter ones, which can make the hair look more transparent. "Coloring is more important on fine hair than any other hair type if a person wants volume," Torch says.
4. Shampoo more often
While many curlies avoid shampooing their hair more than once or twice a week, fine curlies should actually wash their hair more often to prevent product buildup and plump up the hair cuticle.
5. Condition less
When it comes to conditioner, less is more. Some lines even offer lighter conditioners especially for finer curly hair. "I don't even recommend conditioner," Torch says. "I recommend detanglers. Otherwise, the hair will lie flat and greasy."
6. Apply styler sparingly
Stylist Antoinette Guzzo of Frederic Fekkai in New York, cautions against adding to much of a creamy styling product to fine hair because it will weigh it down.
"While it's important to apply a dab of a hydrating cream to prevent curls from drying out, use it sparingly," Guzzo says. She suggests applying a lightweight mousse all over hair to add lift. To avoid product overload, layer your styling aids, according to Style Your Own Hair, a video that provides tips for different hair types. Make sure you don't use too much product with each layering.
Christo likes to section the hair into three or four parts to provide good product distribution and to ensure that no one area gets too much.
"The more you section your hair, the better distribution of products you will get," he says.
Photo by Brio Photography for NaturallyCurly
7. Diffuse & massage
To add volume, diffuse the hair or let it dry naturally. Guzzo suggests placing your hands in your hair against your scalp and gently massage with the pads of your fingers. This technique will wake up volume and add bounce.
Torch also is a proponent of massage, which he believes can also improve hair growth by increasing blood circulation in the scalp. It also relieves stress, which puts pressure on new hair and retards it from growing in. "It works," he swears. "You'll notice a huge difference."
8. Lift at the roots
Another trick is to place your fingers into the hair along the hairline all around the face and lifting the roots up. As you do this, direct the blowdryer on the roots to heat them up and add body and lift. Repeat the technique along the part. "Your part should be the focal point," Guzzo says.
9. Play with it throughout the day
And unlike coarser, kinkier curls, which can get big and unmanageable the more it's messed with, fine hair flourishes when touched.
"With finer hair, you want it to expand and get puffy," Torch says. "The more you play with it, the more fullness you get and the better it looks."
Products Designed to Pump Up Fine Curls
Shampoos
Conditioners
Styling products
Styling tips for fine curly or permed hair
Cleanse: Shampoo thoroughly twice to remove sebum and scalp oils.
Rinse: Completely rinse off the shampoo until it squeaks! Please note that if it does not squeak you are using the wrong shampoo for your fine hair.
Condition:It is important understand that this must be a very lightweight conditioner. Apply to the ends first untangling with your fingers or a pick. After the ends are untangled. rinse lightly and then apply more conditioner to the scalp.
Rinse: Now it is important to rinse the hair in one direction thoroughly, from the scalp down, to minimize the possibility of tangles. This works best if done under the shower where you wash away the conditioner while untangling your curly hair.
Untangle: With a towel, squeeze out excess water from the hair, never rubbing. From underneath in the back begin untangling with a pick or very large comb. It should be much easier since you untangled during the rinse.
Air Dry: Position your hair. Remember that it is how it dries that sets the hair in its final position. Part the hair where you want the demarcation to be and reach up and under with your fingertips lifting the hair while it dries and pull it up to give it more fullness.
Blow Dry:If you must use one. Dry only with a diffuser, even if you plan to straighten later. Use a dryer with a diffuser hitting just the scalp to set the base of the hair up. The diffuser allows you to be in control and set the base up in a full position. Begin squeezing the ends. Scrunching and wadding the hair up, and lifting the base with your fingers. I suggest not using the diffusers with fingers. Use your hands instead to feel the curl and see the results and shine.
Set the Hair: Set your hair with whatever method you are familiar. Since you have already set the base, you are finished if wear your fine hair soft and curly.
This article was originally published in 2005 and has been updated for grammar & clarity.