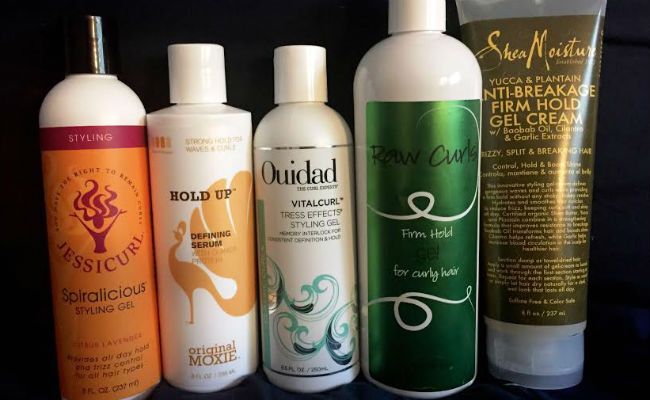 Being a curly wavy girl and self proclaimed hair product junkie, I have tried so many hair products over the years. Gel has been an important staple for me for styling my hair after showering. When layered with other products or used by itself, using gel helps with my curl definition, frizz control and shine.  More than anything else, I am often asked what my favorite hair gels are.
Before I discuss the products, these are the factors that make gels winners for me.
Strong hold--not crunchy or stiff

No flaking

Can help extend multi-day hair

Adds shine

Tames frizz

Increased definition

Has beneficial ingredients
Regardless of which gel I use, application for me is always the same. I apply my gel on soaking wet hair that has not been towel dried after the shower. 99% of the time the gel gets applied over a leave in conditioner and before sealing with an oil. I like to apply my gel section by section using the popular Ouidad Rake & Shake technique.
$16.95 in Curlmart
As a looser curly wavy, this alone doesn't enhance my curl definition but it leaves me with nice, healthy looking hair that lasts even in bad weather! A great choice if you are on the CG method (note: I'm not full CG) the company is spot on when they say this helps with frizz and does dry crunchy but the crunch doesn't last. I like the Island Fantasy scent and also appreciate that this comes in Unscented as well. If I pair this with the company's Rockin Ringlets, aside from the benefits mentioned I also get increased definition as well!
$23.99 in Curlmart
I know this says Serum but I find I can use it alone as a gel as well. This magical elixir is incredible. Shine? Check. Definition? Check. Frizz Control? Check. Soft, Touchable Hair? Check. This is just about everything I could ask for in a styling product. I love that it has strong hold but doesn't leave my hair hard. I also feel it helps repair my hair as I use it. This stuff is also concentrated- you only need a little to achieve maximized results. Hold Up has a minty, refreshing fragrance.
$15 at Ouidad retailers
One of the oldest gels I have loved and I keep going back to. They formula was recently changed to add in Panthenol, but it is still just as good as it ever was! Aside from having the perfect amount of touchable hold, this gel really increased my curl definition wonderfully.  Note that with this product I find more is definitely better.
$30 on RawHairOrganics.com
I used the Medium Hold Gel by this brand, liked it but didn't love it so I was very excited when they released a gel with a stronger hold. It has a thicker, jelly like consistency that does feel the slightest bit sticky in my hands which disappears after a minute. Using this on my hair I wind up with pretty, defined, shiny, frizz free waves. This is another product where less is more when using and there are some excellent extracts and botanicals in here as well.
$9.99 at Target
As soon as I saw SheaMoisture release this product, I could not wait to get my hands on it and I am so happy it did not disappoint! This product has the same fresh floral smell as the rest of the Anti-Breakage line. My favorite thing about this gel is all the awesome ingredients such as the yucca, plantain, baobab, cilantro and garlic that help hair from breaking since it was a problem I recently suffered from. This gel-cream a great amount of hold, minimizes frizz and helps with definition. I get nice shine from it, and it's not a "less is more" type product. I do have to say I have noticed when paired with certain leave ins, this gel-cream shows white clumps on my wet hair but when my hair dries, they are all gone. But it's worth mentioning.
So, these are my favorite gels right now!
Some of them have remained on my Holy Grail list for years at this point. Admittedly so, why I love them may sound similar to each other--but that is only because what makes gel a favorite for me has the same attributes and features.