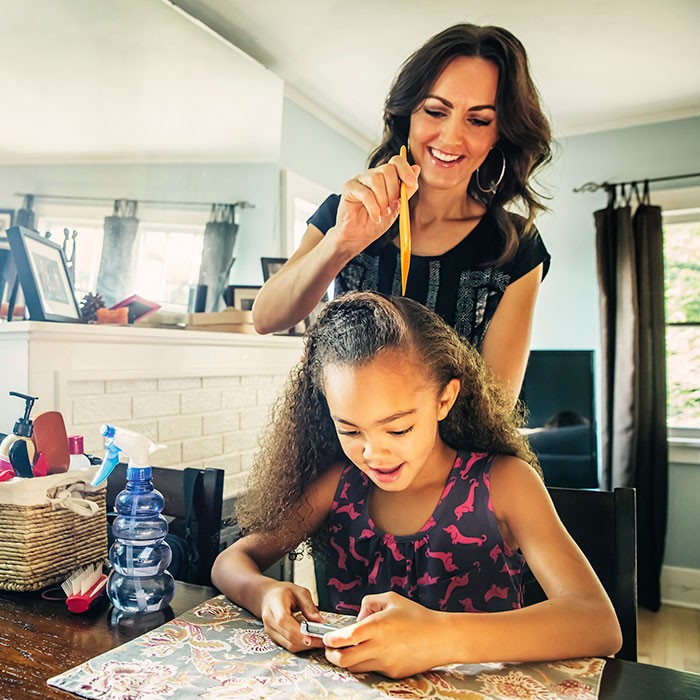 Getty Images
You've mastered your hair care routine and can make it out the door within minutes. Your curly kids' hair, on the other hand, needs some work.
There are a completely different set of rules when it comes to styling your kids' curls in comparison to your straight hair. Your hair may glide through a comb with ease, but you can't figure out why you can't style and care for your kids' curls without running into tangles.
The secret is, you can! It simply takes learning how curly hair works to master a routine your child will enjoy much more.
2 / 2
Another secret? You're not alone. Many parents with straight hair have the same struggles when dealing with a new hair texture, says Britteny Davidson, a curly hair stylist in Indianapolis who has seen a fair share of children plop down into her chair.
"I have a lot of clients who come in specifically for that reason — because their hair texture is different from their kids'," said Davidson. "Some people may think that it is only moms with biracial children who need help, but it's black moms who have black children, too."
Davidson has been a stylist for 11 years but began specializing in curly hair three years ago.
"I was so happy to find my niche because before I was just doing what was popular at the time. As I got older and went natural myself, I saw a need — specifically here in Indianapolis — for curly hair stylists. I just jumped right in," she said.
Over the years, Davidson mentioned, her client base of kids has increased as parents become more curious. She now sees about 10 curly kids each month. Sometimes, parents come into the salon only for a consultation and hair product recommendations.
It's not that parents don't want to deal with their child's curls; they simply don't know how.
"They want to learn," said Davidson. "I tell them to bring their kids to me just twice a year so I can give them tips, and give their kid a haircut."
For those who can't visit the salon as often, Davidson recommends three items to have in your kid's curly hair kit: A quality conditioner, wide-toothed comb, and a bonnet. She says parents don't need expensive tools to care for their children's hair.
"The game changer for me was reading the 'Curly Girl Handbook' by Lorraine Massey and Michele Bender," she said.
When styling your kid's curly hair at home, Davidson recommends these six tips:
Don't pile the hair on top of the head to wash
Always use more conditioner than shampoo
Don't use shampoo as often — it dries out the hair
If the hair becomes matted more easily, detangle often
It's OK to condition more than once a week
Don't detangle the hair unless it's wet
The confidence your kid builds around their curls matters too.
"What's great now is when you watch TV, there are a lot of curly-haired kids and adults. Showcasing them when they are on TV is important," said Davidson. "Even if you're out and you see someone with curly hair, give that person a compliment in front of your child and point out that they both have beautiful curls."
Are you a parent of a child with curly hair? Share with us your favorite tips and routines below!
Read next: