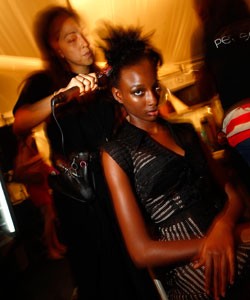 With New York Fashion Week happening (and the European shows coming up soon), I'd like to help you make sense of the reality of the runway — particularly runway hair.
More importantly, how you can adapt runway styles for your own hair, because even just a small hair change can give you a great lift and help you feel good about yourself and your beauty.
I've done hair for fashion shows for many years, so I see firsthand the visions of what the designers are trying to portray. There are hundreds of fashion shows out there every season, and often the ones that get press are the more extreme and avant-garde. That's when you get women saying, "Who are they kidding? I'm never going to wear my hair or makeup like that." Those shows are pure fantasy — look at them for fun and for inspiration.
Runway Hairstyles Inspired by You
I do lots of shows, from avant-garde to more commercial, and I would say that about 65 percent of the hairstyles I do for runway shows could be worn by a lot of women. They can be adapted for everyone's lifestyle.
What happens is, the term "fashion show" makes women shut down. It's easy to get intimidated by the way fashion is presented with the model, the clothes, the lighting. You may see the model and think you'll never look like that. Of course you won't — no one really looks like that. The model only looks like that because she's had experts working on her for three hours. Yes, she's young and thin — but we're talking about the hair. Anyone can have a version of runway hair.
MORE: How Healthy is Your Hair?
The thing that's so great about runway hair is that it is often slightly imperfect. You see a lot of short, easy cuts, or quick knots. When the model's hair catches the light, you can see stray ends and flyaways — it looks real.
TV Hairstyles Inspired by a False Reality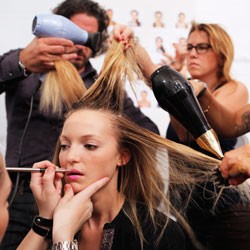 Compare that to TV. We're bombarded by unrealistic, perfect hair: thick, glossy, slightly wavy hair. Not one flyaway (that's impossible!). But maybe the women on TV with that hair aren't as young as runway models, or not as edgy, and there is marketing behind them to make them seem more "real." So that becomes the idea of the hair we are supposed to have.
MORE: The Best Haircut for Your Hair Type
I was watching TV recently and noticed one of the anchorwomen. Her hair was so glossed out, and there were so many products used in it. She did not have one flyaway. Because she is a more "real" woman than a model, I'm sure other women look at her and think, "I'd like my hair like that." Reality check: That perfect hair you see on TV is very high-maintenance. It takes a lot of work and it's very expensive to upkeep.
Imperfect Hairstyles are Always In
Designers love the idea of a mistake in the hair, because people make mistakes in their hair. They want their shows to look real since the point of the show is to sell clothing to women.
MORE: The Science of Fall 2011 Beauty Trends
You see slightly messy, imperfect hair on the runways — and it looks lovely and way better than TV hair.
So how do you make it work for you? What I think is great is that the shows are out there on the web, and you can quickly look at pictures to see what's going on. Zero in on the hair, and if there is anything that catches your eye, think about how you can have fun with it.
Here are a few easy hair ideas from the runways:
If you normally wear your hair in a ponytail, try wearing it down and part your hair on the side.
If you wear your hair down every day, pull it up into a ponytail — nice and high if you have a strong jaw line.
If you blow-dry straight every day, let your hair dry with its natural texture and use a few pins to work it into messy knot.
Playing with your hair is an inexpensive way to update your look — no need to go drop a ton of money on a new wardrobe.
Final Thoughts
The term "fashion show" is what turns women off, and they make up their minds that they can't look like that even before they've tried it. Let's not do that — let's try it. Some of the hairstyles will make you laugh, and you might find them ridiculous — that's fine. But in the mix there will be something for you if you know how to look.