Oh humidity, our curls are just trying to be great, and you keep giving us more work. All naturalistas know the struggle that comes with thick moisture and suffocating air that ends up leaving our curls frizzy with flyaways in the steamy summer months. It's unavoidable no matter how many products you put in your hair. The sun will sweat it out, the air will dry it out, and inevitably you'll be left with a much different hairstyle than what you worked tirelessly for in your bathroom mirror. It's a universal effect of having natural hair and while it can be frustrating, it's better to be equipped with tools and knowledge that can help you instead of dreading the summer heat...cause it's not going anywhere anytime soon.
Fear not fellow naturalistas, we're here to help you conquer the summer with products, styles, and tips that will keep you breezing through whatever weather comes your way.

1. Adjust Your Routine
We've all had to adjust our routine during quarantine whether it's changing up your wash day, taking virtual sessions on creating your own protective style, or adapting to the ever present heat. During the summer season you have to be flexible with your styling and hair maintenance because the weather is what dictates your style. Don't be afraid to change your wash day, when you deep condition, or even how you style your hair. We as naturalistas like to be intentional and structured with how we can for our hair, but with scorching summer days followed by humid mornings, we have to be able to adapt quickly. Your fresh wash you were rocking in the morning could change into a bun by the afternoon.
2. Use a Great Styler
While we all have our holy grails products that have become the staple of our hair routine, it's important to keep a great styler on hand during this heat-filled season. Mousses, hair sprays, and refreshing sprays are a must-have for the summer months because they give you an added dose of moisture and hydration. They are also very convenient to use on-the-go and are filled with rich nutrients and ingredients to keep your hair fresh between wash days. Your hair can get extra dry from prolonged exposure to the heat and humid air so incorporating a styler into your routine is a must to help preserve the curls all season long. Shop the best stylers of 2020 according to the Best of the Best Awards.
3. Embrace The Frizz
We've been taught forever that we must tame our frizz at all costs, however...we're in a season where you're better off embracing the frizz instead of fighting it. Between walking outside, working out, even taking a trip to the grocery store, a few precious minutes can really take your hair from fabulous to frizz. That's okay. Frizz happens. It's a natural part of textured hair and during the summer it must be welcomed with open arms because it's pretty hard to avoid otherwise. Instead of beating yourself up, feel defeated or frustrated that your wash day felt wasted or that even the time you put in styling your hair is now sweating down your forehead...shake it off and adapt. Throw your hair into a fiery fishtail braid, get high with a pineapple and use your favorite scarf, or just fall in love with your voluminous curls.

4. Wear a Protective Style
2 / 3
Whether you're rocking bantu knots, a top knot, micro braids, or an updo, protective styles are the gift that keeps on giving during the fiery summer months. Protective styles are not just for between wash days, they have the ability to help protect your hair from the sun and heat. Using a protective style can help you maintain your hair health, provide stress free maintenance, and save you time from over styling your hair on the daily.The versatility of styles like pigtails, two-strand twists, fishtail braids, and are created with wigs, extensions, and weaves to create long, luxurious, and intricate styles that can be preserved for a long period of time with proper care and maintenance using satin pillowcases, bonnets, and products like coconut oil. You can usually wear a protective style for about one-two weeks which make them perfect for vacations, swimming, or just changing up your everyday look.

5. It's Time To Accessorize
3 / 3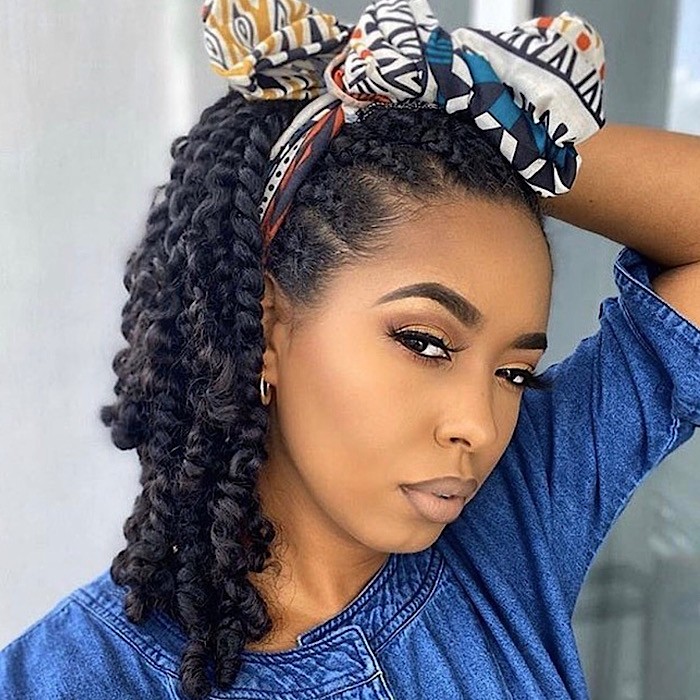 Summer is the perfect time to rock your favorite accessories because the heat allows you to get creative with your styles. Wraps, satin and silk scarves, and sun hats, are just a few accessories that will not only give your style a fashionable boost, but can protect your edges and scalp for the sun. While we're all familiar with how the sun can affect our skin, we don't always think about how it can burn the scalp, dry out your hair, and damage the cuticle structure. Wearing accessories is a great way to help minimize the additional damage to your hair and can help maintain your hair if you are rocking a protective style.
6. Seal Hair with an Oil
Nothing fights frizz like a good hair oil. Natural hair inherently holds less hydration than other hair types, so incorporating an oil into your summer hair arsenal is a must. Oils have the benefits of hydrating the hair, decreasing frizz, adding shine, and strengthening the follicles by reducing brittle damaged hair and split ends. What you don't want to forget in the summertime is to use a moisturizing oil like coconut oil, olive oil, coconut oil, or a blended oil product like our BOB 2020 winner Righteous Roots RX. Moisturizing oils can penetrate the hair shaft, are best used with water or water based leave-in, and are the most useful types of oils for scalp care.
7. Prep Your Hair Before Swimming
If you decide to take a swim in a lake, pool, or waterpark this summer, it's important to practice good hair prep before you hit the water. Most swimming pools are packed with heaps of chlorine which can be very harsh on your natural hair texture by drying it out, tangling it, and exposing you to harmful UV rays. Before you step in the pool you'll want to use a protectant like a moisturizing oil ( as listed above) which can help minimize the amount of chlorine that penetrates your strands. Another way to prevent tangling is to rock a protective style like a bun, braid, or flat twist to prevent chlorine or salt water from absorbing into your hair. If you do rock a protective style make sure you are keeping your scalp moisturized and protected with a cute beach hat or swim cap to reduce the amount of sun damage that occurs from overexposure to the heat.
Share any of your favorite tips and tricks for battling summer humidity in the comments!