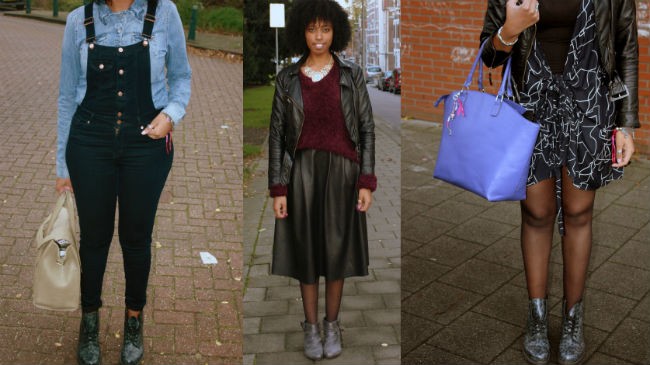 Fall came back to our lives just a couple of months ago. At the beginning of every season we are trying to figure out what to wear. We are looking at fashion trends, but we are also developing our own style. I personally love the fall season, since it broadens the possibilities of clothing; you can layer up, you can wear different types of coats and boots!
1. Dungarees
Dungarees, you either hate them or you love them. I love wearing overalls since they are a boom-factor of every outfit. Most of the time I wear them with my Dr. Martens or sneakers in order to keep my outfit simple. Nevertheless, when I want to go for the classy look I grab my heels and make sure that my overall outfit is simple.
2.  Faux leather weather
(Fake) leather clothing is a must-have this season. It can make your outfit sturdy or very classy.  Faux leather midi skirts might seem difficult to combine, but you can keep the look very simple by wearing a simple top, jacket and converses. Or you can make your look special by combining the skirt with a fluffy sweater and heels. Finish the look with a pleather jacket.
3. Matching different prints
I cannot express with words how much I love mismatching prints. There is an unwritten rule that you should not match prints, otherwise it will look odd. During summer I started experimenting with prints and I really liked the results. A common trend in autumn and winter season is layering. Pimp your look by mismatching the prints of your cardigan with the prints of your dress.
4. Colored trousers
Probably one of the biggest disadvantages of autumn is that you cannot show your fashion sense, creativity and personality to the rest of the world. Sometimes I wear colored trousers in order to make my outfits less boring and thus fancier. Nevertheless, I never wear bright colors during the fall. I do wear warm colors, since they remind me of the fallen leaves.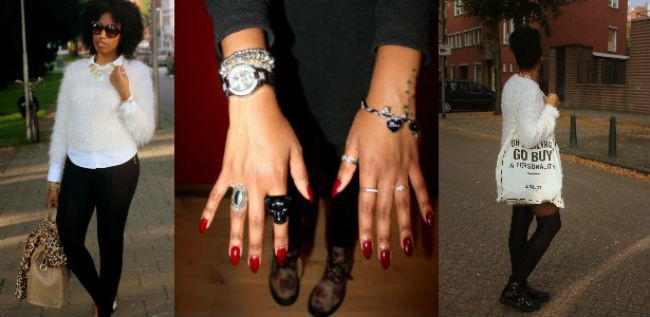 5. It's so fluffy!
I really love fluffy cardigans and sweaters. They are warm, comfortable and not to forget very fashionable. The combinations are endless and perhaps never wrong.
Most of the time, I combine fluffy sweaters with plain blouses. This combination gives the look a classy effect, especially when wearing heels as well. Fluffy cardigans are a must-have as well. Combine them with printed leggings, a basic shirt and converse/vans and you are good to go.
6. Overknees.
When I wear simple dresses I like to wear overknees underneath. They are very warm and your outfits will be cute. I love combining them with Dr Martins or grungy boots.  Sometimes I pull the overknees down until they are around 10 cm above my Dr Martens, I only do this in order to make my look grungy.
7. Statement necklaces, bracelets and rings
As the weather is getting colder we tend to grab our gloves in order to bare the weather circumstances. During fall/winter I always try to avoid chunky rings, since they make my somewhat difficult when I want to put on some gloves.  Therefore, I bought a set of simple rings which I wear on all my fingers. When it comes to necklaces, I mostly wear statement necklaces since they cheer up simple outfits. I often do not wear bracelets, because of the tattoo on my hand and wrist (Otherwise it will be too much). If I wear them I just wear one simple piece.
Watch my lookbook now:
and thumbs up if you like what you see. Cheers!
[do action="youtube-video" videoid="0tPUQtBtkgw"/]
This post was written by Whitney Garcia-Devers: Blog | YouTube | Instagram