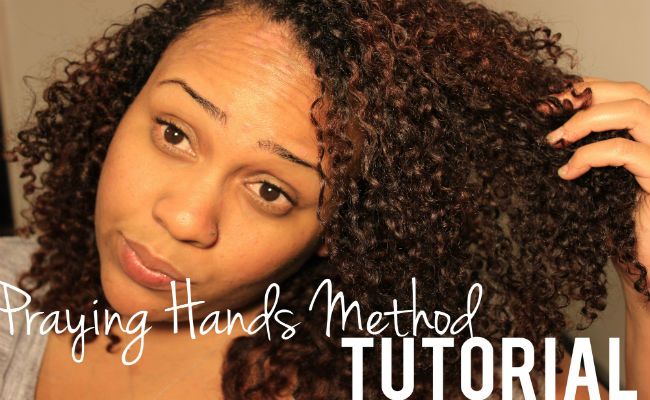 These days, I'm all about getting the most out of my wash and go. Some people chase curl definition for curl's sake, but I'm more of a curl convenience enthusiast. When I lay on the product, smoothing generous amounts of curl definer from root to end, I'm thinking about getting the most days out of my hair between wash days.
I've covered a lot of ground as far as wash and go's are concerned. I've already shared my 7 secrets for the perfect wash and go, but this time around we are digging a little deeper into the Praying Hands Method.
What is the Praying Hands Method?
The Praying Hands Method is a technique for smoothing styling product over curly hair to prevent frizz. With this method, instead of raking product through your curls, you rub it between your palms, and using flattened praying hands, smooth product from root to end. It is not nearly as complicated as it sounds.
Benefits of the Praying Hands Method
I like the Praying Hands Method to apply product because my curls are smoother, and they dry slightly more elongated (which is only temporary">. Smoothing product also reduces frizz from root to tip, ensuring that your wash and go style will last longer.
In my video, I used Zotos 180PRO Foaming Smoother, Be Kekoa Kukui Nectar Hydrate Conditioner, and As I Am Smoothing Gel. You can put the Praying Hands Method into practice with whatever products work best for your hair.
Refreshing Curls with the Praying Hands Method
When refreshing a wash and go, you really want to avoid disturbing the curls further and creating frizz. For this reason, this method is a great option for re-applying styling product. Lulu aka @Curlicue_lu uses this method in her refresh routine on day 2 and 3, "the prayer hands application technique helps me to smoothe out frizz without breaking up my curls." First she wets her hair with water and then gently runs her flattened hands over her hair to apply Bounce Curl Creme Gel.
Using the Praying Hands Method on Wavy Hair
Those with looser curl patterns may find that raking styling product through their hair stretches out or breaks up their curls. When this happens, Praying Hands can help encourage curls to clump again and scrunching can help to encourage the hair back into a spiral shape. In this wavy tutorial from LUS Brands the waves are soaking wet before applying a styler with flattened praying hands.
Is the Praying Hands Method a part of your curl styling routine?
This article has been updated.</em
No comments yet.