It's one of the fastest growing chain of hair salons in the U.S. And its number one focus is on textured hair.
This Saturday, Ken Burkeen, along with his closest friends-who just so happen to be some of the most prominent influencers in the natural hair community--welcomed a new baby to their growing family in Arlington, Texas.
The crafty h'ordeuvres and pinot grigio selection were enough to keep the crowd around for some upload-worthy small talk and photo ops.
However, the tone of conversation quickly shifted to something much deeper and inspirational.
"Wavy to tight coils--we don't see race, we see texture," Burkeen says in his commencement speech at the Dallas/Fort Worth area Huetiful Salon grand opening on January 23rd. "We are client centric. Everything we come up with is inspired by the needs of the client."
Myleik Teele, founder and CEO of CurlBox, mentioned to the audience of her pact with Ken when he opened his flagship salon in Chicago, Illinois just a few years ago. "I promised to host every grand opening of Huetiful. Here I am again at a third opening in Dallas!" she said followed by the crowd's bellow of applause and raised glasses.
I just had this belief that some things are meant to work...Why don't we design a salon that is going to do what it takes?
In the two hour opening ceremony, Ken touched on a few important things to note why this was so special for him as a business owner and entrepreneur. "I just had this belief that some things are meant to work. Time is the most precious commodity. Why don't we design a salon that is going to do exactly what it takes? There are no booth rentals here. I am not a landlord pimping out booths. We don't work that way."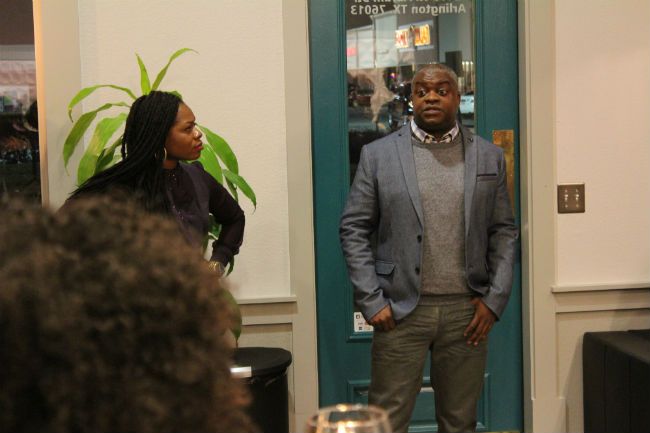 It's all about the stylist-client relationship
It became clear to me as a curly-haired consumer and frequent salon-goer myself that Ken's personal mission is to please the textured masses. I couldn't be mad at that! He took the time to thank many of the moving parts in this process individually, from the key stylists from the flagship location, to his wife, who made her Huetiful Steamer debut on the product's original box. When describing the big players in the Huetiful family, he used words like "exceptional" and "phenomenal".
No more being parked under the dryer all day...
Creative Director Nina Christmas stepped in to share her perspective briefly, as well. "We're stylist specific," she told the audience. "If a stylist doesn't feel comfortable doing something, they don't have to. Right now we offer 57 services, from color to perm rod sets, to Curl Formers. We don't double-book, either--our stylists want to have one on one time with you, the client. I know you've all been parked under the dryer for hours before..."
In its beginning, Huetiful Salon started with 2 chairs.
In such a short amount of time, it has since expanded to 26 stylists in 3 states: Chicago (Bronzeville), Atlanta (midtown), and now the Dallas/Fort Worth area (Arlington). In addition to the widely popular Huetiful Hair Steamer that made its debut years ago in the natural hair community, Burkeen and his team have introduced a multitude of different product collections, their latest being the
Curl Collection
.
Right now the Arlington location is open 7 days a week, which a rarity in the salon world. "Nobody wants to waste their whole Saturday," Ken jokes. "Or maybe, you want to get a fresh perm rod set for the work week and need to come in Sunday to prepare for the busy week to come."
Are you in the Dallas or Fort Worth area and are craving an exceptional quality service that caters to your actual, natural hair texture? Book an appointment online with Huetiful Salon today. You won't regret it.