My name is Melissa. Born and raised in SC, but recently packed up a few suitcases and moved to Harlem, NY to peruse my dream. I started MelissaChanel.com in the summer of 2011, after receiving tons of emails and Facebook messages about all things natural hair and fashion. My birthday is July 24th and I'm a true Leo! My mission is to inspire young girls and women to follow their dreams by sharing how hard I work to achieve mine.
I cannot live without my iPhone (I work in social media), music, Sex and the City re-runs, a pair of Jordan's, and a good leave-in conditioner. 
In 2008, after my college stylist explained to me why I didn't need to relax my hair I decided to "unexpectedly" go on my "natural hair journey" and not relax. I transitioned for a year, trimmed my last bit of relaxer off in 2009 and I've never looked back.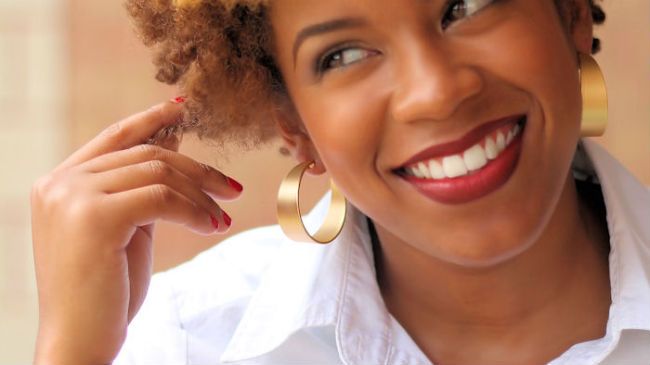 Routine and products
I wash my hair weekly and deep condition biweekly. It's always twisted on blown out hair, I just love the stretched/wild look. Retwisting nightly is a must for me so in the morning I take my twist down, fluff, and go. 
I can't live without my Kurlee Belle Banana Nut and Avocado Deep Treatment or Eden Bodyworks Coconut Shea Curl Defining Creme. These products keep my curls poppin'!
At night I retwist with a simple oil and protect my hair with a satin bonnet. 
O-M-G I am soooo loving my color right now. I maintain by keeping it moisturized on a daily basis as well as deep conditioning every two weeks. Let me not forget my trims every 3 months. You have to keep those ends in tact. Do I get tired of natural hair?
 Ummm sometimes! I always switch it up with a protective style or more color. I wouldn't have it any other way, my hair is more healthy than it's ever been before. 
I feel your hair is VERY important when it comes to your personal style. Since I've been natural I feel more confident when it comes to my personal style. I find myself taking more risks, styling pieces that I've never thought about wearing before. My style has become more "funky"  and evolved since I've been rocking a fro.
I started blogging in 2011.
At first it was all about natural hair and fashion because all the questions I would receive on Facebook were around the two. Now people want to know a little less about my hair and more about me so I've switched over to fashion & lifestyle. I still hold down Monday Kinks, where I ask questions or update my audience on products. 
Hard work, hard work, hard work!
Blogging is a job in itself. I try to make sure I stay consistent, provide fresh new content, and give my readers what they want (most of the time, lol). Over the years I've connected with brands and built strong relationships by networking. 
My favorite part is when I receive comments or emails about how I inspire others to chase their dreams! At the end of the day I want others to know that with hard work and determination anything is possible. Shopping as well as getting cute and taking pictures is fun as well!
Beyond the blog...
Becoming my own boss and designing my own clothing line has always been a goal. So be on the lookout. My advice to others... 
It takes time, network your butt off, be yourself, stay organized, and most of all ENJOY the moment! 
Social Media
Blog: www.melissachanel.com
Facebook: https://www.facebook.com/pages/MelissaChanel/197101513713763?ref=hl
Twitter: https://twitter.com/melissachanel2
Instagram:http://instagram.com/melissachanel