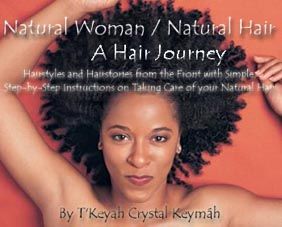 I always stand out in a crowd
I come in naps, curls, locs and waves
Shaming sad tries best left in caves
My myriad styles are ever up to date
Yet I am the subject of intense debate
The critics gather to envy me
For I am woven with her story
Wear me out and flaunt me if you dare!
Who am I?
I am a Black woman's hair.' — From 'Natural Woman/Natural Hair: A Hair Journey'
T'Keyah Crystal Keymah, like many black women, grew up believing that she had to press and perm her hair to look her best. 'It was all I knew,' says the actress, writer, producer, director, dancer, singer . 'I learned without anyone telling me that looking my best was something other than what actually came out of my head. I started having a problem with that.'
Through her struggle and acceptance of her texture, natural hair has become her passion, inspiring her to write 'Natural Woman/Natural Hair: A Hair Journey.' In an industry where image is everything, Keymah serves as a positive role model, proudly flaunting her braids, twists and kinks.
Keymah's has been a regular on the stage and screen. Her long list of credits include 'That's So Raven,' 'On Our Own,' 'Cosby,' 'Jackie Brown,' Politically Incorrect,' 'Soul Train,' and 'The Keenen Ivory Wayans Show.' During her five seasons on Emmy-award winning 'In Living Color,' she earned an NAACP Image Award nomination and a Soul Train Comedy Award nomination.
Fortunately for me and my natural hair, my first big job on television was 'In Living Color,'' Keymah says. 'How you wore your hair, makeup and clothes could reflect your own personality.' Initially she wore her hair braided flat to her head. Then she went straight to the barber shop and cut off 'everything that wasn't marching.' She wore her hair in a little afro and then twists.
This atmosphere of individuality and acceptance wasn't necessarily the norm.
These days, she wears her hair braided and twisted in a variety of styles, depending on her schedule and mood. 'I'm never tempted to go back to permed hair,' she says.
She decided to write her book because there was a lack of information about natural hair. By the time it was published in 2003, there were a number of books on the market -- a positive sign that attitudes about natural hair are changing.
Despite major strides made in recent years, she still thinks there's a ways to go.
T'Keyah Crystal Keyman's tips
Sleep on a satin pillowcase to prevent hair breakage
A healthy diet is essential
Trim your hair in a new moon
Condition your hair with rosemary oil the day before you wash it (mix in some tea tree oil if you have dandruff)