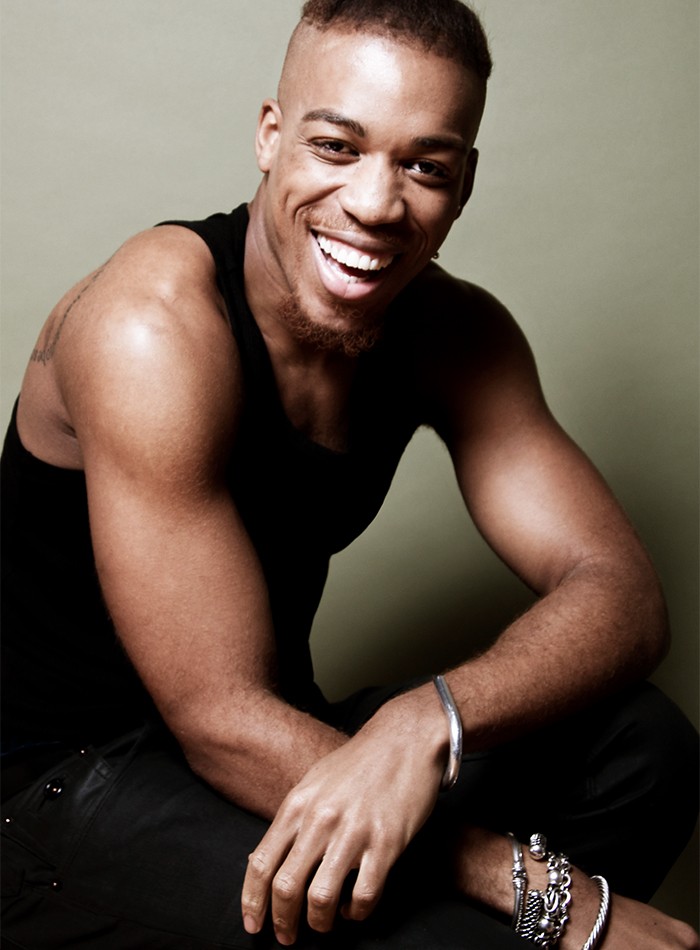 Global Hair Stylist and Educator, Vernon Francois, is taking the curly world by storm with his eye catching natural hair styles and innovative hair care line that is now sold exclusively at Sally Beauty. In case you're not familiar with his work, the internationally-acclaimed celebrity stylist has slayed a few leading ladies such as Serena Williams, Amandla Stenberg, Elaine Welteroth and Lupita Nyongo to name a few. Not only is he changing the game for women we love and admire on the big screen, but he champions the incredible versatility of textured hair and his prestige brand of hair care and styling products is for ALL hair types. Vernon's mission is to connect with all generations showing them the strength and versatility of their hair's true texture - with the right tools and knowledge for every step of their hair journey. 
Vernon Francois Relaunch with Sally Beauty
2 / 4
Sally Beauty is the new home for my home hair care line, designed by me for all hair textures; kinky, curly, coily, wavy, braids and locs. This new partnership means that my brand, the VERNON FRANÇOIS® Collection, will be available exclusively Sally Beauty stores in all major towns and cities in the U.S.A. and at SallyBeauty.com. I'm still pinching myself. Our partnership is a particularly major moment for me, on a personal level, because I remember feeling like I was at home in Sally Beauty in London when I was a teenager. If you'd have told me back then that this is where we'd be now, I wouldn't have believed it.
I'm constantly striving to be as clean, green and innovative as possible, so I made some tweaks ahead of this relaunch. As well as the highest quality ingredients and the spray technology on the rinse-out conditioners that we're known for, all products are now vegan, silicone-free and the fragrance has been adjusted. The whole collection is still free of sulfates, parabens, phthalates, gluten, DEA, dye and cruelty, and the price point is lower as we're now manufacturing in the U.S.A. Each of the signature formulas is designed to enhance not suppress kinks, coils, curls and waves.
Resetting Hair Expectations and Debunking Natural Hair Myths 
One of the fundamental parts of my life's work is to get people to love and embrace the hair that grows out of their head. Yes, you may fancy a blow out or want to play with your look by coloring it or styling it differently, but first and foremost, know that the hair you already have is beautiful and is good enough. I am working to reset hair expectations and debunk hair myths via three things: language, education and visibility.
Embedded content: https://www.instagram.com/p/B0l0vnKFfou/
Firstly, language. Words are powerful and choosing positive or negative ones will set the tone for whatever is being talked about, including how we feel about and approach our hair. For too long kinks, curls, coils and waves have been described as a problem to be solved. From product labels, to captions in magazines, to comments made by hair stylists, words like "tame", "manage", "calm", "unruly", "demanding" create the vibe of a battle going on with these textures. We're told to "eliminate" frizz and that humidity is the enemy.
I heard a model comment recently that she deliberately avoids "frizz taming" products because her hair's fluffy texture adds volume, which is part of her signature style that she loves. And humidity is essentially moisture, which most hair craves. Yes, it may make your hair bigger, but why is that a problem? We need to work with instead of against what's happening, use positive words and increase visibility to show that beauty comes in many different forms.
Along the way, I've come to realize that the idea of banishing frizz is at odds with my whole philosophy of embracing what you have and not trying to change it, so the label had to change. My CURL~ range now says "frizz love" on the packaging.
Another area that I'd like to explore more in the future is gray hair, which a lot of women choose to color and describe using words like "old" or "embarrassing". Let's reframe gray to signify "personal growth", "experience" and nothing to be ashamed of. 
3 / 4
Most often, people who connect hair with negative words aren't aware that they are doing this, so there's a need for education. Education plays a massive part in my work to debunk hair myths, which is why I created the Learn section of my website. People contact me every day feeling that their true texture is not good enough, that it needs managing or changing, and l help them to navigate the best tools, products and practices towards a positive relationship with their hair.
Then, there are parents who have a fear of managing their children's hair, which may be different from their own texture, who I will educate about detangling using fingertips in a way that's completely pain-free. The whole process transforms into a precious bonding experience which is amazing to witness.
There is also an educational need among decision-makers who influence what we see and hear in the world around us. Particularly if such people are not representative of the consumers they are speaking to, raising issues of conscious or unconscious bias.
Finally, visibility. I work to debunk hair myths by showing how versatile and stunning all hair textures can be, no matter the culture, age or gender, in every visible space that I have access to. On social media, on my television appearances, in the salon, at beauty conventions, even on the street I have no hesitation in telling someone how fabulous their hair is and getting into a curl conversation about it. I'll also give credit to artistic, cultural and historical influences within the conversations that we're having and in describing the looks that I create, which links back to education. The more visible all textures are in the digital and real world, on my own platforms and beyond, the more we can all see, celebrate and get excited by the unlimited potential of hair's true texture.
4 / 4
Fall hair trends to expect
With the CROWN Act in California and New York state legislation banning hair discrimination, I think that into fall we'll see more people showing the confidence to embrace their hair's true texture. This might be more than a trend, it's probably a watershed moment. We're now operating from a space where people are trying to embrace the texture that they have and are rethinking what hairstyles complement them. Individuality will shine this season as more people experiment, and I expect to see kinky and coily hair textures getting creative with the likes of twists, cornrows and box braids.