Only a few years ago it was a struggle to find products for naturally curly hair. Thankfully, 2019 has encouraged more and more brands to create hair care lines specifically for textured hair. From luxury brands to drug store brands, there are now countless options to keep your curls flourishing. Scroll down to find out the best new hair care launches of 2019 that every curly girl should know about.
The luxury haircare line has extended their Moisture and Control collection with four additional products including a priming lotion, styling butter, curl gelee and deep conditioner formulated specifically for curly and coily hair. Made up with ultra-moisturizing ingredients such as Murumuru, Mango & Cocoa seeds this collection is definitely worth the splurge. Read my review here.
Curls Poppin' Pineapple Collection
Keep your curls poppin' this summer with this new pineapple collection from Curls infused with Vitamin C, A, B1, and B6 to stimulate healthy hair growth. The collection includes a total of 6 products from a scalp treatment to a curly jelly that will leave your curls smelling like fresh pineapple to make you feel like you're on a tropical vacation.
One of the classic drug store brands, Suave, has extended their product offerings and created a naturals line. Infused with pure coconut oil and natural shea butter Suave created this collection to help curlies, coilies and wavies care for their hair without breaking the bank.
2 / 8
It's that time of year where you're yearning for a quick, effortless and subtle switch up. Overtone who is known for their semi-permanent coloring conditioner, has added a few essentials to their colorful hue. They now have a neutral collection which includes honey brown, espresso brown and rich black.
For those of you that live for a fun and ever changing hair color, it's important to have the right products in your regimen that help protect and nourish your hair to prevent breakage. Color Wow! Cocktails strengthens and restores hair to protect hair from damage. Check out our NC review here.
The Mane Choice Peach Black Tea Collection
3 / 8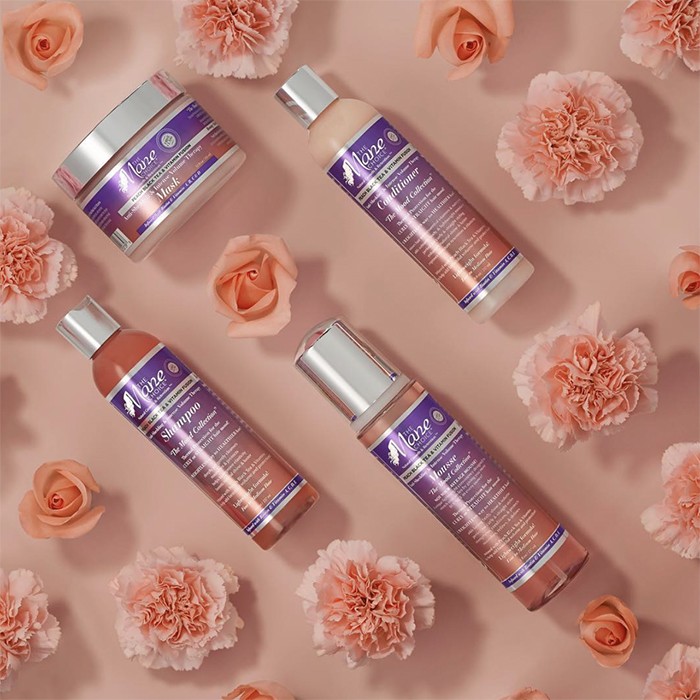 If you have medium to fine hair and are experiencing excessive shedding, the Mane Choice has something just for you in mind. The Peach Black Tea Anti-Shedding and Intense Volume collection is jam packed with vitamins and nutrients to bring your curls back to life. You can grab this collection exclusively at Sally Beauty.
Borrowing from skincare technology, Thirsty Girl features a patented Hyaluronic Acid Technology that forms a rich moisture barrier for deep hydration and protection against hair-damaging pollutants. The Thirsty Girl line includes the Coconut Milk Anti-Frizz Shampoo, Conditioner and Leave-in condition that eliminates frizz & protects against humidity + pollution.
4 / 8
You can now create your own curly girl cleanser! This nourishing shampoo is just the right balance of moisturizing and cleansing. Experience refreshed curls without the stripping qualities of conventional shampoos. EmbraceBox delivers a fun crafting experience to young girls, allowing them to create their own natural hair product while teaching what each ingredient does.
Another drug store brand that has expanded their products for textured hair is Garnier. Their new Curl Treat collection is made up of avocado oil, coconut oil, and shea butter to provide moisture, protection and hold to fight frizz.
5 / 8
Looking for lightweight hydration? Let us lead you to our Lightweight Hydration + Hibiscus Water Conditioner. With exotic hibiscus water, lush passion fruit, and juicy watermelon, this blend is perfect for easily weighed down, low porosity hair as well as an instant transportation to endless summers. Uncover soft, smooth and weightless strands with Maui Moisture Lightweight Hydration + Hibiscus Water collection.
Founded by Muhga Eltigani, to create a safe, innovative and all natural product line for women (and men) with curly and coily hair. She has expanded their product selection with the handmade Flaxseed collection that combines the nutrients, strength and hold of pure flaxseed to give your curls the ultimate shine and definition.
6 / 8
Co-founded by two women from Brazil who recently opened up their first salon in NY have created a natural hair line to cater to women with kinky or coily hair. The Mix it Up collection features a range that considers people who follow No and Low Poo, paraben-free, vegetable-based, hypoallergenic, dermatologist-tested, and cruelty-free regimens. The fun part of the collection is that it is customizable based on ingredients, which is important since we all have hair that is specific to us as individuals. Check out more here.
Spring is in the air and humidity is at high, amiright? For those of us who prefer to scrunch out the crunch and add a finishing oil on our curls for added shine and moisture, you'll want to keep this multi-benefit oil in your bag. Key ingredients include babassu oil, coconut oil, pequi oil, flaxseed oil and passion fruit to enhance curl definition and prevent frizz.
7 / 8
Moisture is key for curly and coily hair. As I Am released a pure oils collection ethically sourced from local co-ops that empower women of color and are cruelty free. The collection includes JBCO oil, black seed oil, coconut oil, argan oil, vitamin E and olive oil to make your concoaction to seal in the moisture and stimulate healthy hair growth.
The new Rose Cleansing Milk made with vegan milk infusions such as white orchid, cashew and flaxseed milk is one their latest releases to cleanse and nourish curly hair without stripping it of its natural oils. Also available in citrus bloom which is unique cold foam cleansing puree of nut butters and natural fruit nectars crafted to promote smooth,nourished strands.
8 / 8
Many curlies prefer a quick and easy wash n' go routine, but let's be honest a wash n' gos are pretty unpredictable. SheaMoisture has created an entire coconut custard line to refresh and revive your wash n' go to stretch wash day for at least a few more days.
Have you tried any of these yet? Let us know in the comments what you think and which ones you're most excited about.