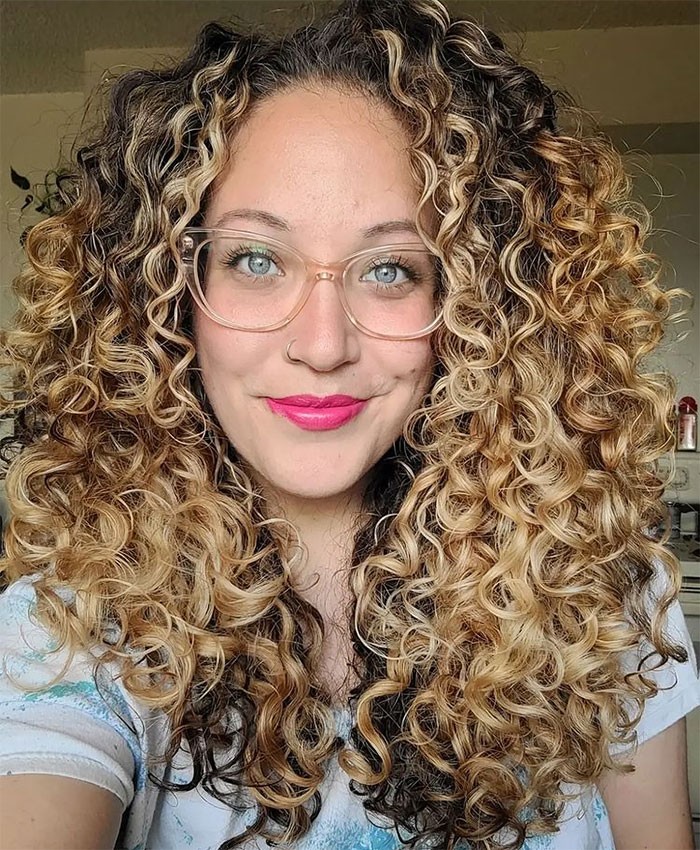 If you are looking for a way to combat frizz, then the Laura Method is for you! The Laura Method is all about moisture, moisture, moisture and product, product, product! It was created by Laura Smith (@laura_marie_smith on Instagram and Laura Marie Smith on Facebook) to tackle frizz and has undergone a few adjustments since her first tutorial back in 2016. It incorporates many elements of the Curly Girl Method and Laura uses products without silicones and alcohols. Take care with the products you choose – because you are using a lot of product, you might want to make sure the product itself is not too heavy.
2 / 3
Pictured: @laura_marie_smith's 6-year curly hair transformation
How to do the Laura Method
1. Co-wash
Co-wash and apply a curl-approved conditioner to your curls. Rinse out.
2. Apply leave-in conditioner (as you would a gel)
After rinsing, douse soaking wet hair with about 2-4 generous handfuls of leave-in conditioner – a good rule of thumb is to use as much as you need to cover all of your hair. Coat hair in conditioner the way you would apply a gel, with the praying hands technique. Then rake through with your finegrs and shake to reclump. The original Laura routine uses an upside-down approach but Laura's updated routine advises upright-styling, dividing hair into sections and applying product to each of those sections. Hair should be completely coated, and you want that sea-weed feel.
3. Scrunch upside down
Scrunch upside down, but not too much so as not to remove too much of the conditioner. You should hear the squish! You might need a towel underneath to catch any dripping water. 
4. Micro-plop with a t-shirt
In the original method, Laura plops with a t-shirt for half an hour but in her updated version, she micro-plops with a t-shirt or micro-fibre towel to remove excess water.
5. Apply styling gel or custard with praying hands technique
Next, apply a generous amount of styling gel or custard with the praying hands technique to upside down hair. Laura uses about four handfuls of gel. Then scrunch upside down again making sure you reach all sides of your hair – including the back!
Switch to an upright position and then glide your hands over the head with some more gel to smooth any frizz or flyaway curls.
6. Diffuse upside down
Diffuse your curls upside down on a low speed and heat without touching your curls at all – just move the diffuser around your head section by section.
3 / 3
BEFORE & AFTER SCRUNCHING OUT THE CRUNCH
7. Scrunch out the crunch
Finally, scrunch out the crunch. This means scrunching out your curls to remove the gel cast that has formed. 
You can watch Laura going through her most recent version of the routine, including the amount of styling product and technique she uses to apply it, in her video below.
And we'll include the original Laura Routine video as well as an update for you to watch in more detail below.
If you want frizz-free, super-defined hair, then this method is definitely for you! And if you want to prolong your washday, wear your curls in a buff or a silk scarf at night to protect it from frizz.
Have you tried the Laura Method? Share your results in the comments!