Imagine it: you walk in the club, stunning onlookers with your enviably impeccable style, brand new Lou-Bous and the fresh stiletto acrylics to match. Yes, you did come to slay and your girls did, too. Snapping those fingers and fluffing your 'fro, you came into the place to not only celebrate yourself, but to laud all things curly, coily, kinky, wavy, and loc'd up!
If this sounds at all familiar, you probably know a thing or two about what happens when curl friends, loc sisters, and naturalistas get together: It's going down.
So what happens when you put these textured stunners on the runway in Atlanta, Georgia for the hottest trends of the season? Honey, you know it's LIT, especially because we came to not only slay, but to see the brand new Smooth 'N Shine! Formulated with all new ingredients and outfitted in sleek packaging, this incredible brand re-launch was eagerly received.
5 Curly Hair Trends For Summer 2018 From Texture On The Runway: Atlanta Edition
At Texture on the Runway in Atlanta, the Smooth 'N Shine brand re-launch reiterated to us all that textured hair is versatile, elegant, smooth to the touch, and always on TEN.
This runway show is living proof that texture is QUEEN! MCs Michelle Breyer and Nikia Phoenix opened the event with jubilance, introducing celebrity hairstylist Larry Sims and fashion designer Marrisa Wilson, both of whom described the looks they created as they were modeled on the runway.
Take note! You'll be seeing these 5 on-trend curly hairstyles all Summer 2018 long:
The Teacher: A+ curls that schools all onlookers.
The Student: Flossing in her protected style, she's ready to express herself.
The Afro-punker: From head to toe, this punk rocker is seriously righteous.
The Artist: She's bright, bold, and a firm believer in beautifully sculpting every curl.
She's On The Go: Her strong bob says, "I'm here to slay, even in my trainers!"
Want more? Here is a BONUS style you'll love:
The Corporate Conquer: She navigates corporate landscapes with a style that bobs and weaves between being straight, then curly, and back again.
It was thrilling to see every model styled to perfection, with every curl and sleek strand held gently in place with Smooth 'N Shine! My favorite look of the evening was the sunlight blonde Ghana Braids style that I absolutely MUST get installed for Summer 2018 and beyond. I love it because it can transition from a daytime work look to a polished night out rockin' style!
Although these five trends were highlighted at Texture on the Runway, and will inevitably flow up and down your IG feed all summer long, you'll be thrilled to know that even more trends were on display while we were in the event space.
Check out these stunning looks on these stylish guests: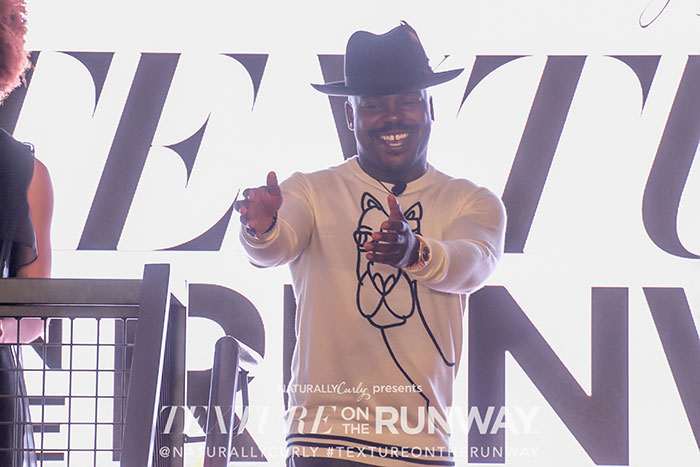 CurlTalk TV: On the Scene for the Smooth 'n Shine Relaunch
You know that I love a good event, right? That's why I am thrilled to share curl stories from the NaturallyCurly community in Atlanta with you via CurlTalk TV! In this episode, you'll learn about curly hair care maintenance, whether regimen and product versatility matters, and what's hot in the ATL.
New, Amazing Curly and Straightening Smooth 'n Shine Products
Smooth 'N Shine is known for giving us options to keep our hair beautiful. That's why the re-launch of their collection is so exciting! With its new look and new formulas, Smooth 'N Shine is giving us all the best of the best whether you're wearing your hair curly or straight.
The following stellar products were introduced and featured at Texture on the Runway – Atlanta Edition:
You can get any one of these items from SmoothNShine.com!
As you can see, we had a ball at Texture on the Runway: Atlanta Edition with Smooth 'N Shine
Want to make this curl connection official? Show @smoothnshineusa some love on IG today! We can't wait to see you at the next Texture on the Runway so make sure you follow us @naturallycurly for updates and invites.
As ever, stay curly!
Loving this all-things-curly content from Smooth 'N Shine?
Read more:
This post is sponsored by Smooth 'N Shine.