The true test of confidence is found the day you decide to chop your hair off into a cute, pixie cut. Whether it's your signature look, or you're doing a big chop, the short, cute style is designed to highlight your facial features. Often times, women opt to hide behind their hair. Longer hair with big curls has been widely marketed as hair goals, but what about those lustrous short cuts? If you're contemplating chopping off your hair to join the pixie crew, here are 10 curly styles that prove curly hair can look good at any length.
1 / 9
1. Short and sweet describes Alana Marie's fresh cut. The filmmaker and content creator shows us how to effortlessly pull off a pixie cut with minimal product use. To achieve this look, find yourself a dope barber and a NuDred Blue Hair Sculptor to instantly coil your hair. Purchase yours in the NaturallyCurly Shop.
2 / 9
2. Samjah Iman chopped off her shoulder-length curls late last year. Now the blogger rocks a head full of thick, voluptuous curls. Not only is this look completely manageable, it puts a new spin on how a pixie cut can look. Samjah used The As I Am Leave In Conditioner, sold in the NaturallyCurly Shop and Alwayz Pretti Edge Control to do a light slick down on her temples.
3 / 9
3. A little (or a lot) color can take your cut to the next level. Don't believe me? Check out Jasmonique Easterling's fiery red style. Color has the tendency to dry out your curls. Restore the moisture with Cantu Anti-Fade Color Protecting Conditioner, sold in the NaturallyCurly Shop.
4 / 9
4. Blonde bombshell Amanda Maitland perfectly executed this ultra-short, platinum cut. This is definitely a get up and go type of style. You can maintain the look by applying a styling foam like Carol's Daughter Hair Milk Nourishing & Conditioning Styling Foam, found in the NaturallyCurly Shop.
5 / 9
5. Toronto Makeup artist Ral Onyes showed off her gorgeous, coily cut for the gram. She made the conscious decision to start her natural hair journey by impulsively chopping of her damaged, brittle hair. To achieve this look, Ral used Cantu Shea Butter Leave-In Conditioner and Aunt Jackie's Curl Boss Coconut Curling Gelee.
6 / 9
6. Hair blogger and makeup artist Lola Williams shows us just how effective a good twist-out can be. Ater washing and moisturizing her hair, sectioned it off and did small two-strand twists throughout her head. The finished product is this gorgeous, coily, head of hair.
7 / 9
7. Latisha Thomas looks like she's mastered the wash and go life. She used Cantu's Moisturizing Curl Activator Cream to manipulate this pixie cut. If you want to have more control of your curls, do a twist out for extra body.
8 / 9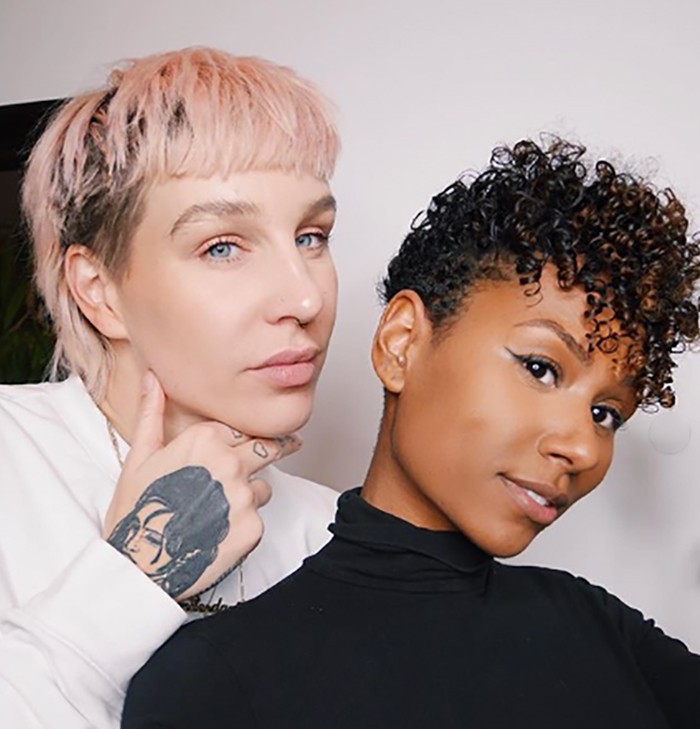 8. Here's another big chop curlfriend. Mwanini Makangira recently traded in her long, luxurious curls for this chic haircut. You can have defined curls like hers by applying the Only Curls Hydrating Curl Creme to condition your hair. To hold the curls, use the Only Curls Enhancing Curl Gel.
9 / 9
9. Last but certainly not least, Angela Arrington and her absolutely delicious short, curly cut. To achieve this look, she used SheaMoisture Strengthen and Restore Leave In Conditioner and a mixture of Kinky Curly Custard Styling Gel and Eco Styler Argan Gel. After twisting out her hair, she concluded her style with SheaMoisture's Hold and Shine Spray.
These ladies prove that a short pixie cut can look good on all textures and at any length. If you've been questioning your long tresses, hopefully these 9 pixie cuts show you that short, curly hair is absolutely beautiful. What do you think? Share with us in the comments!