The Natural Hair Movement is an era of fearless, beautiful men, women, and children sporting their hair in its natural state. For those of us who want to stay true to our roots and still have options for changing up our personal style with no chemical shame, these 21 hairstyles (in no particular order) are some of the most popular in the world among the #teamnatural crowd.
Two-Strand Twists
This look is a must try whenever going natural. It's super easy to create and can make your curls last for days. Here are 5 simple steps to creating two strand twists.
Finger Coils
The clean, polished look of finger coils gives us an innocent play on Shirley Temple circa 1935 in The Littlest Rebel.
These ringlets are super playful, fun, and a gorgeous way to display fresh coils.
Inverted Bob
Not everyone wants to be team "long hair don't care"--and the bob has just the amount of sophistication and sexiness to prove that short cury hair is awesome, too. Sometimes referred to by stylists as the stacked bob or angled bob, this style is more popular during hotter seasons when we need to get all that heavy, curly hair off our neck in the heat! Be sure to look for a salon that specializes in natural hair.
Blowout
Whenever you need a trim or just want a fluffier, fuller mane for a few days, the blow-out is perfect. And what else is great is the fact that it isn't necessary to use heat in order to achieve this look. There are many different kinds of blowouts--Dominican, Japanese, and Brazilian, and the heatless blowouts are among the most common.
NEXT: Safe, Natural Hair Straightening Tips
Wash-and-Go
This is probably the most popular of the bunch because it is usually considered the easiest hairstyle for naturalistas. Here are Devri's tips to achieving curl definition with a wash-and-go.
Box Braids
Janet Jackson made this hairstyle popular by her role in Poetic Justice, and ever since, we've been hooked. The box braids takes us naturals back to the 90's when style was a perfect blend of sassy yet beautiful (think Dionne in Clueless).
PHOTO COURTESY OF PXRFXT
Heatless Waves & Curls
Believe it or not, re-texturizing hair does not necessarily call for hot styling tools like a flat iron or curling wand. When us curlies feel like changing up our hair's natural texture temporarily, we turn to easy-to-use tools like perm rods, flexirods, or Curlformers. The look won't permanently alter our hair, and there are many tutorials to help us achieve this look with ease.
Bantu Knots
With bantu knots, you can get the definition and voluminous curls you want. This protective style is an easy way to retain moisture in your mane while looking cute and ready for a night out on the town!
MORE: Evelyn's Bantu Knot Tutorial
Fro-Hawk
Growing out your TWA can be tedious for the impatient naturals out there. The frohawk is a great way to hide the awkward middle stages of growing your natural hair out by pinning it up into a faux hawk and pairing with some big hoop earrings for a street chic look.
PHOTO COURTESY OF ASKPROY
Roll, Tuck, & Pin
Whenever you're looking for a simplistic style that protects end from climatic damage, this one is it. The roll, tuck, and pin is a pretty way to give coily hair a break from constant styling, brushing, and product junkyism.
Pineapple
The pineapple method was created by the curly community right here on NaturallyCurly.com! A lot of us use the pineapple method to protect our curls while sleeping. As the natural hair community continues to grow and boast of its pride for our hair, a lot of us are leaving the house like this with no worries! It's a fabulous and simple look when there's not a lot of time in the day to style.
PHOTO COURTESY OF DONEDO
Flat Twists
The flat twist has been around for a long, long time. Even before the natural movement started taking flight, we all used to do flat twists on our relaxed and weaved hair to protect it from damage and over styling. Nowadays, naturals have turned this once juvenile look into one that can be adorned with an elegant flower or other hair accessory to jazz it up. Create this beautiful flat twist updo.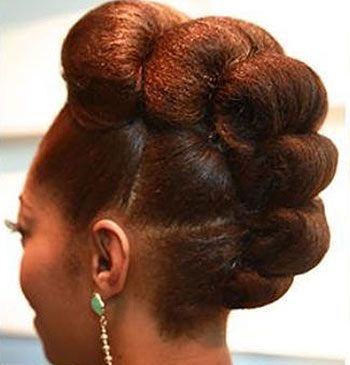 The Cinnamon Roll Updo
This classy 'do may look difficult to create, but it doesn't have to be! The cinnamon roll can be worn to important events, or even date night with your hubby. Your face will be beautiful and the cinnamon roll updo will compliment it without overshadowing your whole look.
High Bun
While exercising those extra pounds off in the new year, or attending an important meeting with colleagues, the high bun is versatile for many occasions. It's another protective style that doubles as a nifty way to mask split ends.
MORE: 4 Easy Styles To Hide Your Split Ends
Goddess Braids
Extremely similar to the halo braid, this updo is a chic and sophisticated look that a lot of natural brides are sporting. MsDanti shows us in a few easy steps how to achieve this regal look.
PHOTO COURTESY OF MSDANTI
Twist-Out
As a natural, the twist-out is one of our go-to styles whenever we want lots of volume and hold in our curls. Depending on the products used and the size of the twists, this look varies and is extremely popular among naturalistas everywhere.
Pompadour
This 'do is classic, but made more modern and edgy with Janelle Monae's debut in the new millennium. Now natural ladies everywhere want a fierce pompadour updo to show just how big their big hair can get.
Afro
We will also adore the 'fro for tons of reasons. One is because to us, it epitomizes the era of true texture self-love. And us curlies have our own ways to decode what type of afro we are rocking: from the TWA (teeny weeny afro) to the BAA (big a** afro). They say the higher the hair, the closer to heaven...then Aevin Dugas must be holier than thou.
Natural Hair Bow
The hair bow is a frisky and cute take on a classic bun. For long-haired naturalistas, you may also use a weave hair bundle similar in texture to your natural hair to get the look while still rocking your coils and protecting your ends for the day. Watch how Cassandre Beccai creates her stylish natural hair bow on YouTube.
Dreadlocks
Affectionately called 'locs', naturalistas all over the world have made this lifestyle commitment to a process called "locking", in which natural hair is twisted and held together on a regular basis until the hair strands eventually stick together as one big strand. The length and thickness all depend on your maintenance and type of locking process you choose. Of course, patience is above all, as it may take years to get your desired results.
PHOTO COURTESY OF UN'RULY
Marley Twists
This protective style earns its name from its island vibe, and is popular among curlies in the warmer months of the year. If you can handle long installation time (usually 6 to 8 hours), marley twists (similar to havana twists) are a great way to flaunt your natural hair while adding length as well.